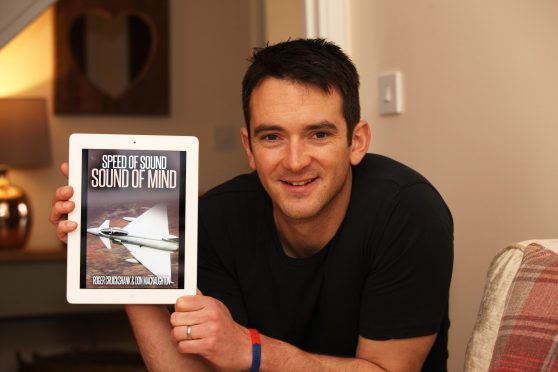 An RAF Lossiemouth pilot has detailed his triumphs over adversity in a book aimed at raising funds for mental health and military charities.
Roger Cruickshank was inspired to help the Scottish Association for Mental Health after his mother took her own life six years ago, aged 54.
The air force ace said the tragedy was "completely unexpected", and he has since embarked on a mission to remove the stigma surrounding mental illness.
Mr Cruickshank hopes that by narrating how he has overcome some massive obstacles in his life, he can persuade others to look beyond their own negative circumstances.
When he was 22, and a star of the British Olympic ski team, he smashed his leg in a fall and was told he may never walk again.
However, he bounced back from his injuries to compete in the Winter Olympics just ten months later – with nine titanium pins and a plate in his leg.
The pilot's world was turned upside down when his mum, who helped him through his recovery, committed suicide in April, 2010.
He said: "I never thought that my mum had any problems at all, and she was who she had always been, my mum.
"Her suicide was completely unexpected.
"It was her decision to take her own life, but if she had been in a position to talk to someone, then maybe she would have been able to get over what was troubling her at the time."
The book, titled Speed of Sound, Sound of Mind, is being launched at the Inverness Waterstones shop on Saturday.
Proceeds will also go towards the Help for Heroes military charity.