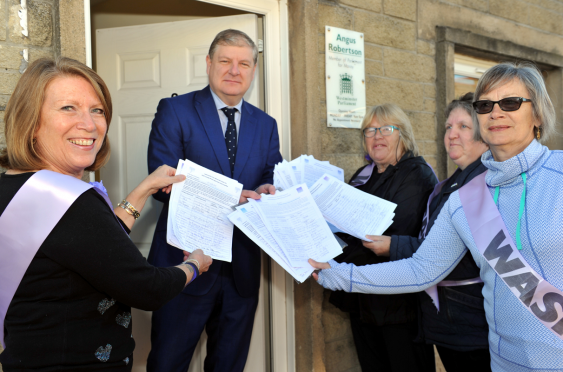 A 1,200-signature petition pleading for fairer pensions has been handed over.
The Women Against State Pension Inequality (Waspi) collective is fighting against plans they fear could cost them up to £40,000 each.
Yesterday the group of Moray campaigners handed their petition to the region's MP Angus Robertson to deliver to Westminster.
The women are fighting against changes to pension rules which will see the state pension age rise to 65 for females by November 2018, and 66 by 2020.
The group argues the plans would unfairly disadvantage those born in the 1950s.
Coordinator Sheila Forbes said: "There has been so much support for it. Mostly people were in shock and disbelief when we told them about it.
"Younger women have been just as interested because it's going to affect them too in the longer-term.
"We aren't campaigning against it being wrong or it shouldn't happen – we feel we weren't given enough warning to plan for our retirement."
The UK Government has always maintained letters to the women affected by changes have always been clear.
Since forming the membership of the Moray group has swelled from just a dozen members in May to the current total of more than 80.
Moray MP Angus Robertson said: "The fact these women were able to collect so many signatures in such a short time demonstrates how unfair people think this is."