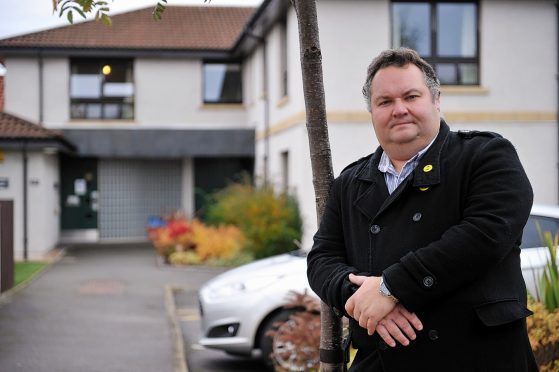 A Moray women's refuge has split from its national group after being embroiled in a row about having a man on its board of directors.
Elgin City North councillor, Graham Leadbitter, has worked with Moray Women's Aid since responding to an appeal for board members in 2008.
But when Scottish Women's Aid recently learned of Mr Leadbitter's position, they ordered bosses to remove him or the charity would be expelled from the national body.
Moray Women's Aid manager, Elle Johnston, has now advised her superiors of the organisation's resignation from its umbrella group.
She blasted the policy as "blatantly discriminatory" and argued "skills and passion" were more important than "whether or not someone has a beard".
Mr Leadbitter, who sits on the board alongside nine females, said it was crucial the charity was run by people "with different experiences".
He added: "Gender is never an issue, because everybody around the table makes valuable contributions.
"The board felt quite strongly that membership should be based on ability rather than gender.
"Disaffiliating from the Scottish body will mean we have to change some things but it won't be a massive hindrance.
"We will still retain close links with other women's aid groups, and will still deliver an excellent service."
Mr Leadbitter welcomed the fact the controversy had sparked debnate about gender inequality, but said he did not want the situation to overshadow the "fantastic work" which domestic violence charities perform.
Scottish Women's Aid provides training and support for 37 groups around the country.
Last night, the organisation insisted it would maintain its women-only rules for board members.
A spokeswoman said: "Women are often excluded from making decisions about issues that predominantly affect women's lives.
"Less than 35% of members of the Scottish Parliament are women, and only 25% of councillors are female.
"Women-only boards are important because we recognise that in Scotland historically and currently women are not equal, and do not have the same opportunities and experiences as men.
"We want to challenge inequality at every level outwith and within our organisation, and that means promoting and protecting women's spaces and places as decision makers in the fight to end domestic abuse."
Moray Women's Aid offers shelter to more than 150 children every year, and helps hundreds of women by taking them in and offering telephone counselling.