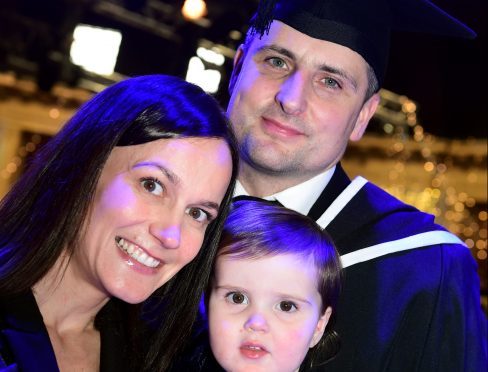 An Elgin man, who had to balance his studies with the birth of his daughter and full-time employment, was one of hundreds of Robert Gordon University students celebrating their success at yesterday's graduation ceremonies.
Michael O'Donnell, 34, picked up an MSc in energy management at the Beach Ballroom, after facing the fresh challenge of fatherhood when his daughter Mila was born in 2013.
That happy event happened in the middle of a hectic week of essay submissions and academic deadlines.
But there was no disguising the joy on the family's faces when Mr O'Donnell was joined by little Mila, who turns two on Sunday, and his partner Nicole Kennedy to receive his degree.
He explained: "It feels a bit surreal graduating, because I finished studying back in August and, from then until now, my time has been very occupied with a new job and some travelling.
"So studying seems like a distant memory, but being here today has really brought it all back to me.
"In the space of a week, I had two submissions and a baby due, so it was a little bit stressful when Mila was born.
"It didn't seem the easiest route at the time, but it all worked out quite well in the end."
Mr O'Donnell said he wanted to get his RGU degree to further develop his career in oil and gas.
And he added: "I only came into the oil and gas industry a few years ago, so I wanted to secure this degree to fill in the gaps in the knowledge that I had through not being a veteran of the industry.
"A couple of friends had told me about how great Robert Gordon University's oil and gas courses were, so I just decided to give energy management a go.
"I started my new job several weeks ago, so it's all go right now, and I'm determined to continue and evolve professionally, so I might even go back and get a further degree one day.
"But, for now, we are going to focus on celebrating."