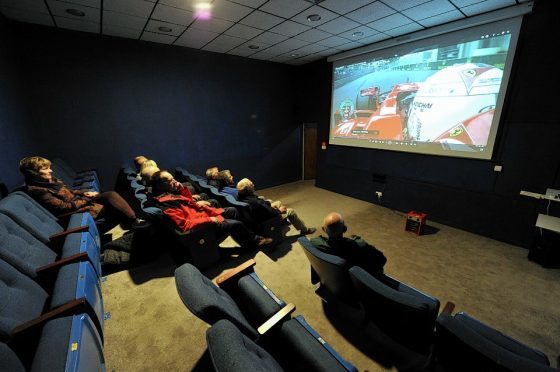 A Moray tourist attraction will raise the curtain on its latest feature next year, after defying expectations to fund its creation on a shoestring budget.
The Morayvia Science and Technology Centre, at Kinloss, has built a 29-seat cinema at the former primary school building it occupies.
Chairman Mark Mair recently invited a group of guests to the base to try out the screening room, and revealed the efforts that had gone into making it a reality.
"We were awarded £5,000 by the Money for Moray grant scheme, specifically for this," he said.
"People said we would never be able to create a cinema for that price, but we were able to call in a few favours and thankfully we managed it."
Mr Mair drove to Manchester to collect second hand seats from an Odeon cinema in the city, after spotting a deal for them online.
He added: "They were in a poor state when we got them, but the team spent hours refurbishing them.
"And a friend of mine was able to barter deals with electric companies to get equipment like the projector and screen at cost."
Keith Builder's Merchants supplied wood for the tiered seating at cost too, and local joiner, Sandy Cowie, offered to install it at a reduced price.
Morayvia volunteers then spent countless hours painting and sprucing up the former study room.
The cinema will be used to show cockpit footage from various aircraft, as well as documentaries about aerial rescue missions.
And it will complement Morayvia's planetarium, by screening educational films about the solar system.
Les Morgan, who helped oversee the Money for Moray project, was on hand to see how Morayvia had spent its grant.
Mr Morgan said: "We awarded the group the maximum amount possible, which was £5,000, and it's nice to see it has been put to such good use.
"This will help Morayvia grow as a tourist attraction, which can only benefit the local economy."
The Money for Moray programme was funded by the local authority and the Scottish Government, and divided £120,000 between community groups this summer.
Morayvia received a four-star award from Visit Scotland last month, and will reopen to visitors in April.