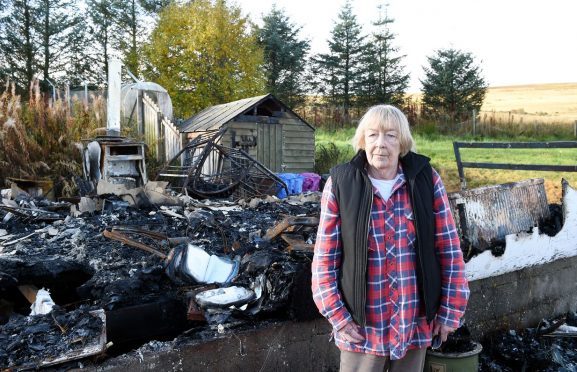 A Moray woman who lost her dream house in a massive fire is determined she will have somewhere new to call home next year.
Joanna Davidson's roadside cabin near Tomintoul was completely destroyed in October, with just charred remains still at the site.
The 66-year-old has since vowed to rebuild the property, but the reality of her loss hit her hard last month and she ended up in hospital.
Ms Davidson – who moved to the Cairngorm village to escape city life – collapsed several times, as the stress of being homeless over winter sunk in.
She has now been released, and her recovery has been buoyed by the kindhearted locals who have launched a fundraising campaign to make sure she can set up home in the village again.
So far, more than £1,000 has been donated to the appeal, while furniture and other household items have also been given. More fundraising events are being organised for next month.
Last night, Ms Davidson thanked the community for supporting her but admitted it was a daunting task to find a new home.
After collapsing at her sister's home in Aberdeen last month, she was admitted to hospital in November.
The 66-year-old said: "There was absolutely no lead-up to it – it just happened. The worst part of it was that I had no idea it was happening.
"I was sitting on a stool in my sister's house and then I just fell off it. It probably happened two or three times before that too. I kept finding myself on the floor in odd positions.
"The doctors didn't know what it was but I think it was stress, pure and simple. It catches up with you eventually."
After a two-week stay at Aberdeen Royal Infirmary, Ms Davidson was eventually transferred to Dufftown to be closer to her beloved Tomintoul.
She was deemed fit enough to be released shortly before Christmas and has since been renting with a friend in the Cairngorms village.
Ms Davidson said: "The support has been just phenomenal. I've had some furniture donated and all the other things I need.
"It sounds insensitive to say it but the only thing we need is money so that we can clear the site and look into rebuilding something there.
"I'm back in Tomintoul now, which is what I always wanted and just trying to work out how everything will be done to rebuild. It can only get better really."
Rubble from the chalet has now been pushed to one side of the plot about a mile from Tomintoul on the A939 towards the Lecht.
Generous well-wishers are continuing to drop off money at the village post office to help the plight of the popular resident.
Friend Susan Chisolm said: "We won't let her leave the village. We've always been sure of that. People always ask after her to see how she's doing, even those that don't know her personally.
"It's going to be tricky to get something new where she stayed before. Usually there are small properties available in the village but even they have been full recently."
Until Ms Davidson has a home of her own again, she has been split up from her beloved dogs Ginnie and Ash. It is feared her third pet perished in the blaze, which was caused by an electrical fault in a heater which set the curtains alight.
Investigations will begin in the spring to determine what kind of property can be built on the plot she called home for a decade.
Ms Davidson moved to the cabin after placing an advert in the Press and Journal to find her perfect hideaway, in an attempt to escape the "rat race" in Aberdeen.
Donations to the Joanna Davidson Fire Appeal can be made at Tomintoul Post Office.