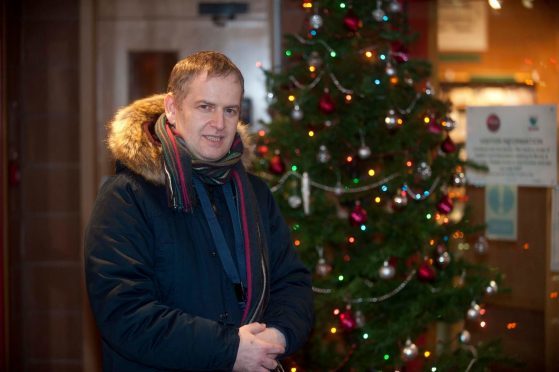 A Moray musician has made an emotional return to the band he helped create after being diagnosed with cancer.
Elgin resident Glenn Munro, 49, was admitted to Dr Gray's Hospital in August for an emergency operation.
Last night the trumpet player made a poignant appearance for Moray Concert Brass's annual Christmas carol service.
But unfortunately the music instructor was unable to step forward to conduct the group in festive renditions due to the chilly weather.
More than 100 people huddled together outside Elgin Library to sing hymns in driving rain.
Despite still undergoing chemotherapy at Dr Gray's for bowel cancer, Mr Munro – who was a founding member of the group 25 years ago – was determined to make a contribution to the band's festive tradition.
He said: "I've only managed to make one rehearsal in August before I took ill and I've not been able to get involved since.
"It was great to see the band again and join in for a couple of the Christmas carols. I know the band's in safe hands but I wanted to join in."
After being rushed into hospital for the operation Mr Munro spent two weeks on the wards – but had to return for three nights a month later due to complications.
The 49-year-old school teacher will complete his chemotherapy in February and has been given a positive prognosis by doctors.
Despite the potentially life-threatening news given to him earlier this year the musician brushed it off as "an adventure" last night.
Staff from Dr Gray's that have helped treat Mr Munro and help with his recovery were among the crowd at the library.
Carol singers dropped money into collection buckets to raise funds to pay for new televisions for ward five.
Mr Munro said: "When I was there a few people left and it was only an elderly man left on his own and he couldn't work the TV.
"I just thought it would be something that would make a difference for patients. I really wanted to just give something back."