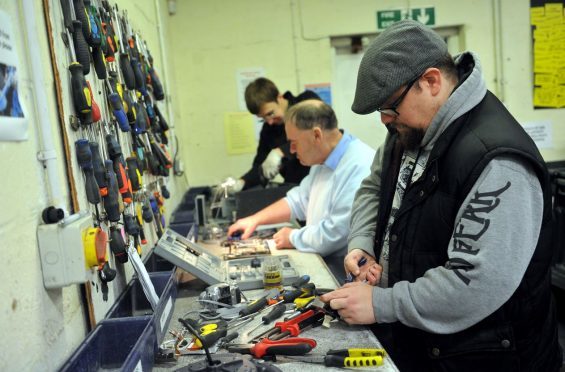 A project aiming to get 100 people back into work in Moray will encourage participants to start their own enterprises.
Trainees from across the region will be sent to firms in order to get training to boost their own skills after council proposals won European funding backing.
Some of those on the scheme will be encouraged to set up new ventures in order to create their own positions instead of finding jobs elsewhere.
Forres firm Reboot is one of the organisations taking part.
Manager Lee McGrath said the project would look to help those who have been out of a job for a number of years.
"One of the main ideas behind it is to show people their own potential," he said. "Maybe these people have become a little bit lost and don't know what to do know.
"If they went back into a commercial job then they would be told the guidelines and if they didn't like it they would be shown the door.
"This way they can make the jobs fit their own lives instead of the other way around."
Single parents and those with few qualifications are among those targeted by the scheme.
Moray Council has been awarded £334,000 of European funding and hopes to help more than 100 people into employment over the next two years.
Trainees will start arriving at the firms for the 12-day courses at the end of the month. As well as giving an insight into his own enterprise, which refurbishes computers and breaks them down for scrap, Mr McGrath will also be hosting sessions encouraging the participants to look at their own skills.
Firms for the project will be selected by the Elgin Youth Development Group and the Social Enterprise Academy, managed by David Bryan.
Mr Bryan said: "We've been working with the council to create opportunities for employment by developing workplace skills.
"Social enterprises are a good way to do this because it gives people not in work the chance to go into a workplace and learn leadership and communication skills."
Moray Council was also given a further boost as it won £121,000 from the European Social Fund to provide advice to residents in debt.
The poverty and social inclusion project will be aimed at lone parents and people from low income or unemployed households. It is hoped the scheme will help 800 people over two years.