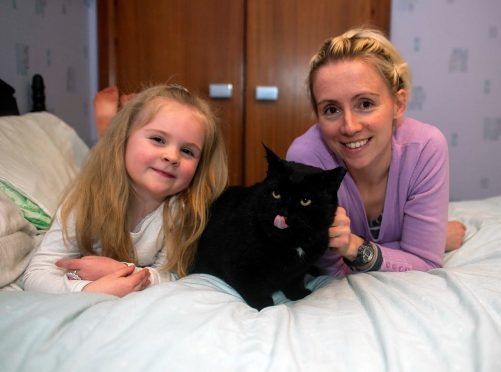 A "grumpy" cat that faced being put down after his war hero owner died has been given a new home – with the vet sent to destroy him.
Normandy veteran Drew Robertson died aged 92 earlier this month, leaving six-year-old tom cat Sam without anyone to look after him.
Because Sam is semi-feral, and known to have a bad temper, Mr Robertson's friends in Burghead struggled to find a new home for his beloved pet.
Janet Glendinning, who helped care for the cat as Mr Robertson's health worsened, eventually called a vet from Elgin's Miller and Swann practice to put the feisty feline to sleep.
She said: "I tried and tried to find Sam a new home, but it seemed impossible.
"I'm very fond of this character of a cat, so the idea of him being put to sleep was very sad for me."
Vet Bethan Fitzgerald arrived to euthanise the animal the day before Mr Robertson's funeral last week.
But she was won over by Sam's unlikely charm, and instead took him home and made him part of her family.
Mrs Fitzgerald yesterday said the new addition had become firm friends with her five-year-old daughter, Eira.
She added: "Sam is classed as feral, he is quite a grumpy cat, so there was nobody else willing to take him in.
"He had a bad reputation in Burghead, he used to be a fighter so is missing half an ear and is full of scars.
"But I thought he deserved a chance, so decided to take him home myself, and now he's just the friendliest cat.
"My five-year-old is in her element and Sam loves her."
Mrs Glendinning added: "When Bethan said she would take Sam home you could have knocked me over with a feather.
"Mr Robertson would have been devastated about anything happening to Sam, they were so close that he would spend all day talking to him."
Mr Robertson was born in Cummingston and, aside from a six-year spell in the armed forces, spent most of his life in the area.
Mrs Glendinning became friends with him after moving to Burghead in 1990, when he allowed her to use a patch of his land to grow vegetables.
Who was Drew Robertson?
Normandy veteran Drew Robertson received France's most prestigious military accolade just months before he died.
Mr Robertson was born in Cummingston in 1924, and served with the Home Guard upon leaving school before being called up to fight in World War II.
He entered the Royal Engineers as a dispatch rider, couriering urgent orders and messages between headquarters and military units.
In 1944, he played a successful part in one of the conflict's most crucial campaigns.
The Normandy landings set in motion the liberation of German-occupied northwestern Europe from Nazi control, and helped bring about victory on the Western Front.
Mr Robertson would later reveal that he felt "lucky to be alive", as bad weather delayed his arrival at Normandy.
On the night he was planned to get there, an American detachment went in place of British troops and every soldier who landed was killed.
Following the war, the Moray man was stationed in Germany and Switzerland.
Just three months before he died, on January 4, the French government presented him with a medal and made him part of the National Order of the Legion of Honour.
Burghead man Padraig Glendinning, who served with the Gurkhas while in the British Army, became close with Mr Robertson after he moved to the village.
Mr Glendinning said a highlight of his friend's final years was a visit from the Royal Engineers stationed at the Kinloss Army Barracks, shortly after their arrival on the site in 2012.
Later in life, Mr Robertson enjoyed spending time with long-term companion Paddy Young and the pair went on holidays abroad together.
Mrs Young's daughter, Sandra Mone, said Mr Robertson was "a character" who would be missed.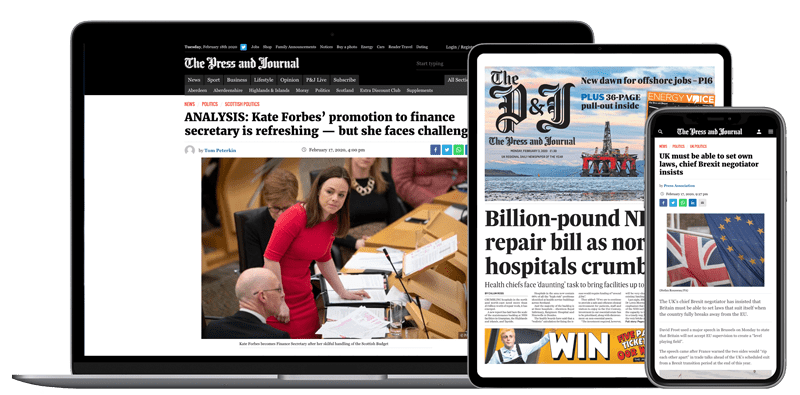 Help support quality local journalism … become a digital subscriber to The Press and Journal
For as little as £5.99 a month you can access all of our content, including Premium articles.
Subscribe