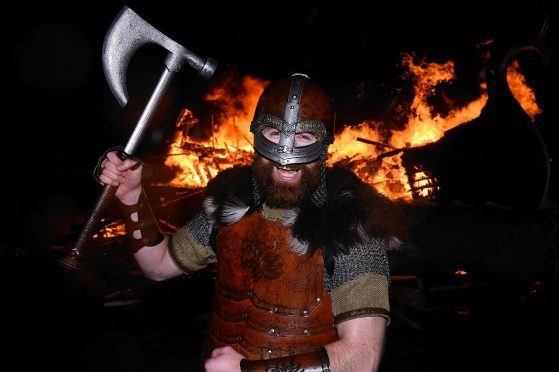 Viking hordes will launch an invasion of Elgin later this month – to wage war in a haggis-eating competition.
The group of Shetland men will bring the spirit of the Up Helly Aa fire festival to Moray during a patriotic celebration.
The annual Scottish Theme Day will feature a new attraction this year, in the form of a contest paying homage to the country's national dish.
Participants will be challenged to consume as much haggis as possible without using their hands.
Eight members of the Jarl Squad, a crew of bearded Shetlanders dressed in traditional viking attire, have vowed to conquer their rivals.
And, before the feast gets under way, they will march on the centre's historic Plainstones in full regalia while singing traditional anthems.
The Elgin Business Improvement District (Bid) group arranges the annual event, which will take place on Saturday, April 29.
The organisation's chairwoman, Gill Neill, yesterday said the announcement of the viking visit had created "a huge buzz".
She added: "The guys are coming to this area for the Spirit of Speyside Whisky Festival at the same time, and we were lucky enough to have them agree to join us.
"They will visit businesses across the centre to have photos taken with people, and they are all really looking forward to it.
"The reaction to the announcement has been out of this world, people are so excited."
There will be a massed pipe band march during the bash, as well as stalls celebrating Moray's food and drink output.
The Elgin Burns Club will perform poet Robert Burns's Address to a Haggis before the eating contest commences.
Mrs Neill said the culinary challenge was designed to lure more people into the town.
She added: "We were looking for something the crowds could get behind.
"The pipe bands all wanted to put a few members forward for it, and the vikings were immediately up for it."
Different Up Helly Aa celebrations take place across Shetland and the Jarl Squad from the South Mainland have been lined up to appear.
The crew burned their replica galley, following a procession involving hundreds of locals carrying flaming torches.