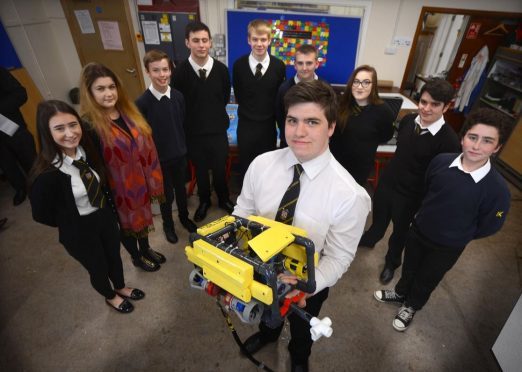 A Moray after-school club is preparing to take on the best and the brightest engineering students from across the world.
A team of a dozen pupils from Keith Grammar School are completing final tests on a robot that has been more than two years in the making.
Later this month the group, entitled Improvise, will take their creation to California to put it through a gruelling series of underwater tests.
While in America the students, who range from 13 to 17 years old, will have to demonstrate their ROV (remotely operated vehicle), named Proteus after the ancient Greek god of the sea, can simulate subsea industry tasks.
The team will have to delicately navigate the craft from the poolside to drop tools and perform tests to identify a box that could contain hazardous material.
Sixth year pupil Ben Williams, 16, revealed the group has spent a collective total of at least 1,600 hours fine-tuning their submersible.
He said: "There's been a number of things we've had to work on. When we took part in the competition last year we had an electrical issue so we've come up with a more reliable system that works off switches.
"There was also interference from the cameras, which made them unusable, so we've made changes there too.
"Working on it has got me a lot more interested in everything to do with the subsea industry."
Work on the craft initially began with a group of four students at an after school club at Keith Grammar before swelling to a team of 12.
The young engineers won their place in America after coming first at a competition held at Robert Gordon University – and will now go head-to-head against 65 groups from 16 countries.
The prize guaranteed flights for six pupils but not wanting to leave anyone behind the group raised £8,500, winning a grant from Scottish and Southern Electricity Networks (SSEN) for the final £4,000.
The energy giant uses similar craft as part of their project to connect Moray to Caithness with a subsea power cable.
Steven Tubbs, principal technical teacher at Keith Grammar, added: "They've built it completely from scratch. It's brilliant for them to see how to apply what they learn in school as well as getting an insight into what's being done in the local area."