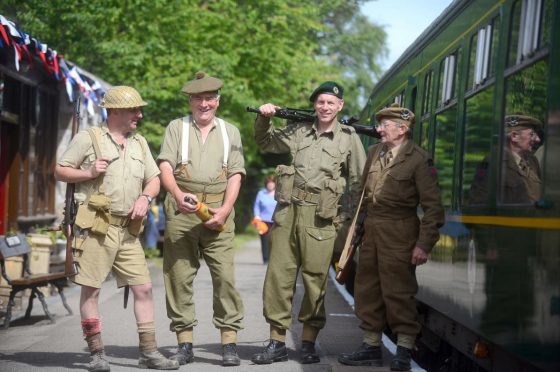 War vehicles, vintage food tins and Union Flag bunting have transported passengers on a Moray heritage railway more than 70 years back in time.
The 1940s were recreated in fine detail on the Dufftown to Keith route at the weekend as organisers donned period costumes.
Military personnel patrolled the platforms with replica weapons as visitors soaked up the atmosphere of war time Britain at the Speyside stop.
At Keith a shop from the era was recreated in the station building with tins of food stacked up at the counter.
Passengers were given a rousing send-off from Dufftown across the weekend by brass bands and pipe bands playing patriotic songs.
On board the train, the visitors were recruited to identify spies suspected of operating on the route that weaves its way through the Moray countryside.
Dozens of volunteers assumed roles ranging from policemen to shopkeepers amongst those in military uniform to create an authentic experience.
Volunteer Helen Bodiam explained the group had been eager to expand the event to all aspects of 1940s life as well as the Blitz.
She said: "We don't consider it to be a military weekend – it's called a 1940s weekend. "The Army exhibits always go down well but we want to offer more.
"It's amazing the amount of people that take a real interest in the Desert Rat recreations. People will always come up and say they had an uncle or a dad who served there.
"We had a museum in the waiting room at Dufftown with various things, including a vintage wedding dress, and we had a 1940s shop at Keith for the first time and some vintage cars."
Windows were taped up at both stations to mimic the blackout of the period to protect buildings from the effects of bombing raids.
Recruitment posters were plastered on catering trailers and walls encouraging people to serve their country.
Mrs Bodiam added: "Everyone puts a lot of effort into the event and they are always eager to keep adding things."