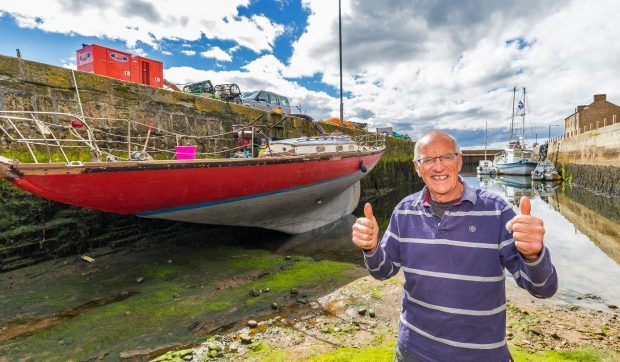 A would-be yachtsman has had his passion for sailing restored – only days after sinking the craft he had spent five years restoring.
Richard Ogilvy had intended to set sail in his 1930s vessel Sea Wraith, but had to abandon ship within seconds after it began taking on water.
The 75-year-old, who lives in Forres, spent the weekend trying to pump the yacht dry after it sank to the bottom of Burghead harbour.
But yesterday, the 40ft boat was afloat at the Moray port again after days of effort to salvage the years of devotion.
The retired forester is currently sleeping in his car by the quayside at night to ensure pumps sourced to stop the yacht from sinking again are keeping up with the tide.
And, despite the heart-breaking sight of looking at his craft submerged under water, Mr Ogilvy revealed it had brought back his love of sailing.
He said: "When I was working on it in the garden, I was actually thinking about selling it [the boat]. I thought I wasn't enjoying it anymore.
"In a funny way, now I've gone through all this trying to keep the boat afloat, I'm beginning to remember how much I love yachting.
"I am actually more inclined to keep it now than I was before."
Remarkably, the 50-year-old engine that has been fitted to the boat was working again yesterday despite spending three days under water.
The machine was restored by Mr Ogilvy's mechanic son Jonathan, who took it apart and repaired it before fitting it to Sea Wraith.
It is understood the boat sank because the wood, from which the 1930s German vessel was made, had contracted due to the years it had been out of the water.
Yesterday, Mr Ogilvy explained he was reluctant to bring the yacht on to dry land, in the hope he will still be able to take to the open waves in it in the future.
He added: "At high tide, I am currently working out where the water is coming in and then, at low tide, I am trying to repair it on the outside.
"All the fishermen at Burghead have been very supportive. It's been one of those life-affirming experiences."