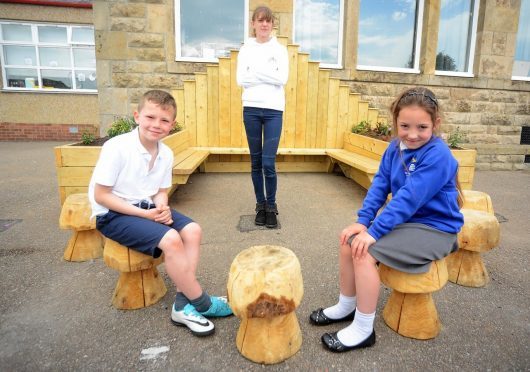 The mother of a tragic Moray schoolboy gathered with his classmates yesterday to unveil an eye-catching bench created in the youngster's honour.
Seven-year-old Kieran McQuillan died in April when he was struck by a van while playing with friends in Elgin.
His death left his teachers and P2 friends at New Elgin Primary School heartbroken.
They decided to create a lasting tribute to make sure their departed friend would be remembered, and arranged for a large bench to be constructed in his name.
Kieran's classmates joined with his mum, Mary Johnston, to inspect the finished product yesterday following its arrival at the school.
Ms Johnston fought back tears as she read a plaque which encourages New Elgin pupils to "sit, laugh, smile and remember our friend Kieran".
Head teacher, Ellie Pirie, explained that the structure was made to resemble another bench that Kieran especially enjoyed sitting on.
She said: "We wanted something that people could remember Kieran by, and one of his favourite things to do every morning before school was to sit on the bench in the playground.
"We ordered this one shortly after the accident, and it took about six weeks to build."
Mrs Pirie made a speech yesterday as the P2 class gathered around the structure for the first time.
She asked the youngsters to "think about Kieran and that lovely smile that he had" whenever they use the bench.
P2 teacher, Jo Kirkman, decided on the wording engraved on the plaque which is attached near the top of the seat.
She said: "It wasn't too tricky, because smiling and laughing were a big part of who Kieran was.
"It's nice for the class to have a place to remember him."
The bench has been installed near a memorial tree which has been planted in tribute to Kieran.
The rowan tree will flower every year around the time of Kieran's birthday in April.
The parent council contributed £500 towards the cost of the bench following a fundraising Easter disco.
The remainder of the money was taken from school funds.
Kieran was killed on Elgin's Brechan Rig on Friday, April 7.
A cavalcade of bright blue Subaru Imprezas subsequently formed a cortege behind the hearse bearing Kieran's coffin.