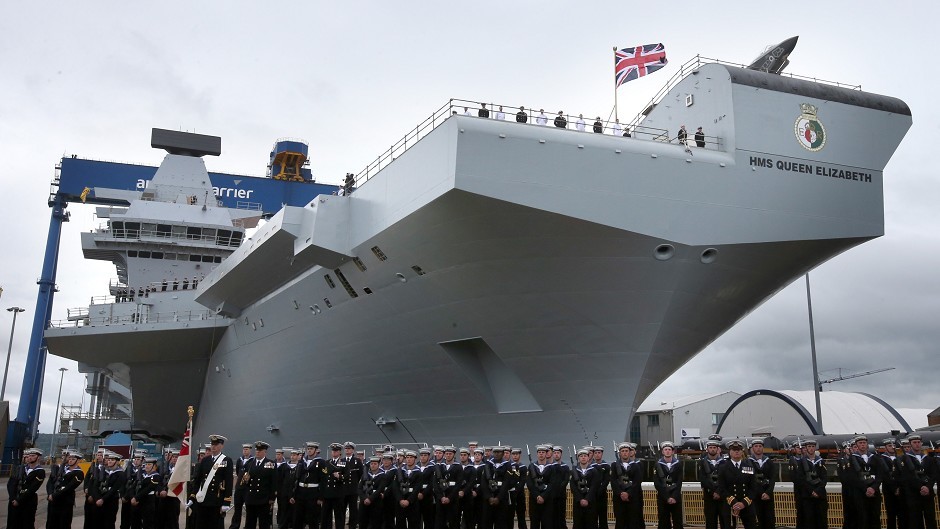 A massive aircraft carrier has arrived in the Moray Firth as part of gruelling shakedown tests before joining the military's front line.
HMS Queen Elizabeth is the largest warship ever built for the Royal Navy – costing more than £3.1billion to construct.
Since being launched last week the huge vessel has completed a series of manoeuvres in the Firth of Forth, near where she was built in Rosyth.
And yesterday the 920ft aircraft carrier circumnavigated the north-east coast en route north to conduct tests.
Excitement built as the heavily-armed warship powered through the North Sea past Aberdeen and Peterhead and on to the Moray Firth.
A series of turns were completed on the journey as the newly-christened ship shared the North Sea with fishing boats.
It is understood the crews will conduct six weeks of tests in the Moray Firth before returning to Rosyth for planned engineering work.
Once fully staffed the decks will be able to accommodate up to 40 aircraft, which will be cared for by a crew of nearly 1,000.
Merlin helicopters from 820 Naval Air Squadron have already completed an exercise in Scotland to prepare themselves to be the first to be stationed on the carrier.
Stan Barber, chief executive of military heritage centre Morayvia, believes the arrival of HMS Queen Elizabeth will cause a stir in the area.
He said: "I think there will be a lot of interest in it. It's certainly something unusual in this part of the world in recent times. It's been a while since we had a carrier here too.
"At the moment the ship is one-of-a-kind so a lot of people will be keen to see it. You certainly see a lot of enthusiasts at RAF Lossiemouth when the Joint Warrior exercises are on. I imagine this would be the same."
HMS Queen Elizabeth is due to enter service with the Navy next year and will be based at Portsmouth with its sister ship – the HMS Prince of Wales, which is due to be launched before the end of the year.
Once fully commissioned the carrier will also have Chinook helicopters and F-35 fighter jets on board.