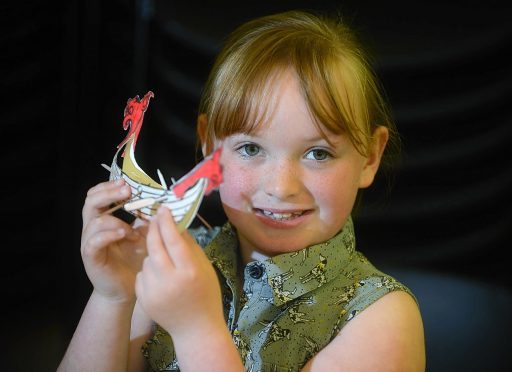 Elgin Museum was invaded by hordes of young Viking enthusiasts yesterday for a fun day celebrating the Norse warriors.
Dozens of children brought the spirit of the Scandinavian seafarers alive during the event, as they learned all about the rugged existences they led centuries ago.
But rather than following in the destructive footsteps of the vikings, the Moray youngsters were altogether more interested in finding creative ways to honour them.
During the family activity day, they crafted their own replica longships from paper, decorating them with bright colours, dragon designs and sails.
As part of the session, which ran from 11am to 1pm, the group also made their own versions of the runic pendants worn by Vikings.
Brothers Jack and Alfie Granitza, who both attend New Elgin Primary School, were among those taking part.
Jack, 11, described himself as a fan of "most things historic" as he put the finishing touches to his creations.
He added: "I like the way the Vikings made their ships, with such big sails, shields all down the side and the dragon at the front."
Six-year-old Alfie proudly showed off his paper longboat, which was coloured gold, silver and bronze.
Elgin Museum's Mary Shand said the idea was sparked by a visit from a group of Shetland "Vikings" in April.
The South Mainland Up Helly Aa crew stopped by as they toured the town during its annual Scottish Theme Day.
Mrs Shand added: "We had about 30 children take part, and they were all very into the Vikings, one girl offered a particularly psychedelic longboat – which she said was a party ship.
"All of the children were accompanied by family members, and it was great seeing the older folk go back into their own childhoods as they got swept up in making things.
"As well as the clay modelling and longship activities, we have had all manner of Viking-themed games and puzzles."
The museum will run further family days across the next few weeks, to give children and their parents or guardians something to do during their summer break from school.
Next Monday's will focus on Picts, while subsequent sessions will examine Romans and Victorians.