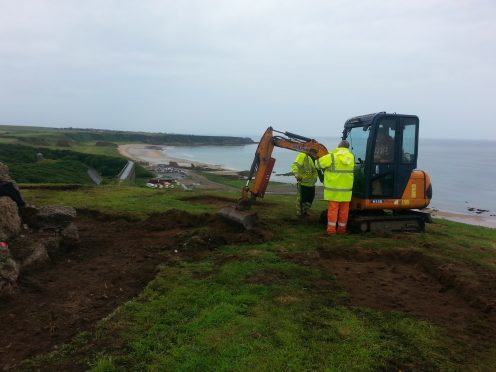 A determined band of Moray volunteers are nearing the culmination of a project to entice tourists to a beauty spot.
Members of the Cullen Past and Present volunteer group cleared thick vegetation from the summit of the town's Castle Hill to open it up to sightseers.
And now, shallow trenches have been dug on the slopes to create space for a network of paths to form a walking trail to the viewpoint as part of the £16,000 vision.
A team of archaeologists kept a watching brief on the team to ensure proper precautions were taken if the group unearthed a significant find.
The small ruins at the hill's summit are steeped in history as a rallying point for the Duke of Cumberland's army before victory at Culloden.
Last night, group chairman Dennis Paterson reported that the volunteers had not found any historical artefacts during their dig.
Space has also been made on the soon-to-be walking route for picnic tables and seats for tourists and locals to enjoy the panoramic views of the Moray Firth.
Mr Paterson explained that the group remained on target to complete the project before the end of the year.
He said: "My kids used to play up there and this all got started because I tried to get up to the top and couldn't. I had to go round the back and was virtually on my hands and knees.
"Now, we've got to this stage where it really gets the juices going. I'm excited we can now see the fulfilment of all our 16 months of effort."