A drink-driver hid in a cupboard to evade police after rolling his girlfriend's car into a field, a court has heard.
Duncan McGregor, of Lossiemouth, got behind the wheel of Sharon McLean's vehicle after drinking at a friend's house.
Witnesses described the labourer as "blazing drunk" before the couple left the Portknockie home for a stroll on Cullen beach on July 30 last year.
Miss McLean, who had not been drinking, drove to the beauty spot but became too emotional to drive back due to an argument with her former partner.
At Elgin Sheriff Court yesterday fiscal Alex Swain said McGregor drove the return journey to Portknockie.
However, on the A942 approach to the village the car "veered" off the road before rolling into a field.
Miss Swain said: "There is a gradual bend at the entrance to Portknockie. At this bend Miss McLean described the car veering off the road, spinning and rolling several times before coming to a stop in a field."
Yesterday McGregor appeared in the dock after pleading guilty to charges of driving carelessly and driving over the legal alcohol limit.
A motorist that noticed the damaged car at about 5am stopped to speak to the couple after spotting them walking in the field.
When the man noticed McGregor slurring his words he called the police.
Miss Swain added: "When officers attended Sharon McLean and the accused were found hiding together in an upstairs cupboard."
McGregor was found to have 51mcg of alcohol in 100ml of breath – the legal limit is 22mcg.
Defence solicitor Matthew O'Neill explained his client had made the "foolish" decision to drive back after Miss McLean got "extremely upset".
McGregor, of St Gerardine's Road in Lossiemouth, was ordered to do 120 hours of unpaid work, was banned from the roads for 48 months and was placed under a curfew for 135 days.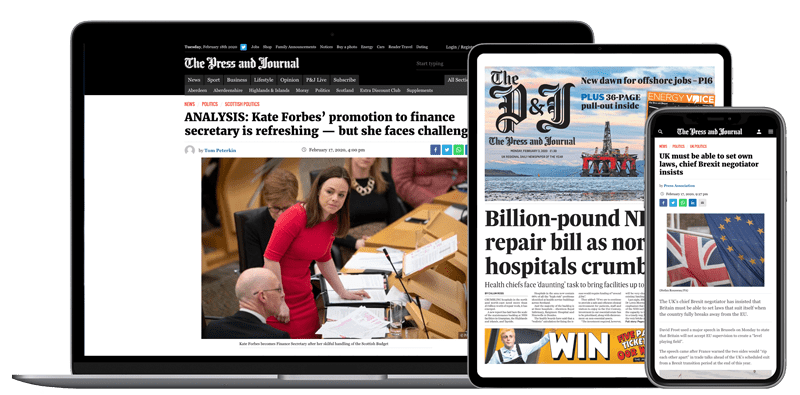 Help support quality local journalism … become a digital subscriber to The Press and Journal
For as little as £5.99 a month you can access all of our content, including Premium articles.
Subscribe