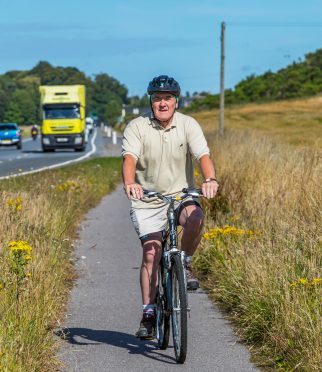 A £30million transport strategy which aims to put an end to gridlock in Elgin was approved at a council meeting yesterday.
The councillors gave the go-ahead to work at the Laichmoray roundabout and the junction of South Street and Hay Street, which will kick start the town's transport transformation.
The blueprint also includes improvements to the bus station, as well as paths to promote cycling and walking in the region.
Speaking after the decision, chair of the local authority's economic development and infrastructure committee, Councillor John Cowe, said: "I'm delighted that the transport strategy for Elgin has been approved and it will be a strategic element of the Moray Growth Deal bid.
"The growth of Elgin is fast paced and we as a council have to be at the forefront of developing our infrastructure in line with this."
Despite reaching a consensus, there was a debate about the strategy and how successful it would be in achieving its aims.
Some councillors expressed their concern about how the deal would be funded, and how it would affect the area's budget.
Council leader George Alexander, who had cycled from Forres to the meeting to show his support for promoting sustainable transport, urged his fellow councillors to back the idea.
He said: "It's encouraging as much walking and cycling as can be reasonably achieved.
"The obvious question is where is the money coming from? We don't have money and we can't get money if we don't have the strategy."
The biggest proposal in the strategy is for a £7million bridge to be built over the railway between Ashgrove Road and Maisondieu Road by 2022.
Other improvements include the addition of cycle paths on Linkwood Bridge, and improved pedestrian access at Lesmurdie Road junction in a bid to encourage sustainable transport.
But Councillor Frank Brown questioned how well the strategy would work in encouraging people to change their behaviour.
He said: "The strategy seeks to persuade people to alter their practices and behaviours built up over years in using cars, so in fact it could be described as a bit of social engineering.
"If we believe that adapting the strategy is going to hugely change Elgin into Amsterdam then we are flawed in our thinking."
The 10-week consultation on the plan began on December 8 last year, and a majority of respondents were in favour of the proposals.