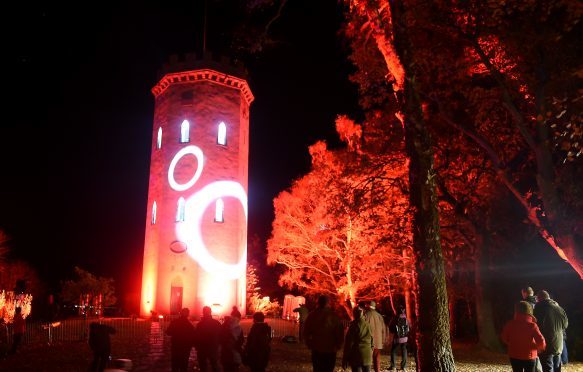 Organisers have pulled the plug on a spectacular lights show in Moray due to poor ticket sales.
About 14,200 people attended Colours of Cluny last year across its 12-day run – an increase of nearly 2,000 from the inaugural event in 2016.
When the curtain came down on the Forres extravaganza, which cost more than £200,000 to put on, in November organisers were "hopeful" it would return for a third year.
However, now it has been confirmed that despite the event running a profit it is not enough to make it self-sustaining.
The initial two events have relied on the backing of funders Event Scotland, Highlands and Islands Enterprise, The Budge Foundation and the Berry Burn Community Fund.
Graham Murdoch, chairman of organisers Forres Features, said the decision had been made with "great sadness".
He added: "Although the show was extremely well received, it wasn't enough to meet the target necessary to secure the event's future.
"We did make a surplus, but it's insufficient to reinvest and deliver the necessary 'wow factor' – which is vital if we want to grow the event.
"The bottom line is that the market growth isn't sufficient to give us the confidence that the show would be sustainable in future years.
"However, we will continue to operate and the committee will review its future strategy over the coming months."
Colours of Cluny was devised to replicate the success of the Enchanted Forest near Pitlochry, and attract visitors to Forres during the winter months.
More than 600 lights were set up on Cluny Hill to illuminate the trees and historical buildings on the slopes.
The inaugural event generated a £125,000 boost for the local economy while the town's Heritage Trust also reported an increase in visitors to Nelson's Tower during the summer.
Laurie Piper, operations manager for Moray Speyside Tourism, said: "Each year has seen the event grow and Colours of Cluny has been fundamental in showcasing Forres, Moray and Speyside to local people and visitors from Scotland and beyond during a traditionally quiet period.
"I know that every avenue has been explore to secure the event's future but the reality is that without the ticket sales it's impossible to secure a long-term future for it."