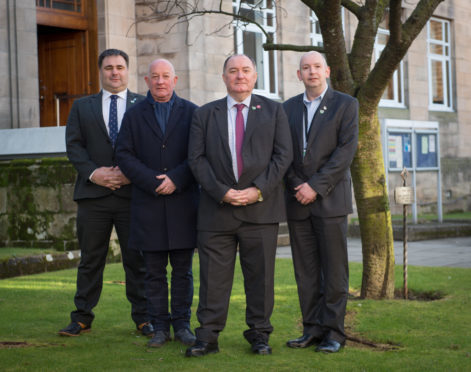 A group of Moray councillors, who could hold the balance of power in divisive budget proposals, has held talks with rival groups.
The Alliance, which is formed of three independent members and the sole Labour representative at the authority, is expected to hold further discussions with senior figures tomorrow.
If the group backs the SNP's proposed financial model for the forthcoming year, it could mean a deadlocked vote with the administration in the chamber.
Last night, Heldon and Laich member Ryan Edwards, who was an administration member until he quit for "personal reasons", explained his new colleagues were going through the opposing budgets in fine detail with both sides in an attempt to find common ground.
He said: "We can keep talking right up until we go into the chamber, and that's what we will do if it's required.
"If you look at the two budgets that have been drafted, nothing is greatly different between them. We know there have to be cuts, it's just agreeing the ones we think we can stomach.
"We're going through it all line by line – the important thing is that we are going to go back into the room with both sides at this stage."
Moray Council's Conservative and independent administration's proposed budget includes £6.4million of cuts, which could lead to up to 45 compulsory redundancies.
Unions have condemned the proposals as an attack on the most vulnerable with savings proposed at schools.
Meanwhile, the SNP group has put forward a blueprint which strikes more than £900,000 of cuts from the plan after the authority's shortfall dropped by £4million in recent months.
Moray Council risks going bankrupt unless more than £10million worth of savings can be made during the next two years.
Council leader George Alexander said: "We've had some good talks with the Alliance members, it has gone well.
"Of course, I believe our budget would be supported by any sensible councillor."