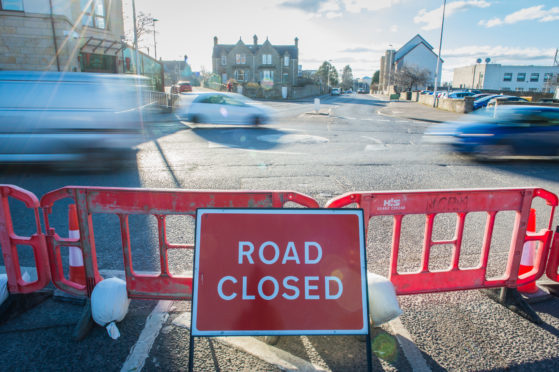 Work has started on the transformation of a notorious roundabout in Moray's biggest town in a bid to ease congestion.
Delays on the busy routes at the junction between South Street and Hay Street in Elgin has provoked many complaints from motorists.
But yesterday, a major overhaul of the roundabout began to convert it into a crossroads controlled by traffic lights.
The £500,000 project is expected to last 10 weeks with major diversions anticipated during the final phases of the development when Hay Street and then the entire junction is closed.
Diversion routes have been drawn up to guide motorists to Wards Road to avoid the closures when they come into force.
Elgin City South councillor Graham Leadbitter said: "The roundabout has been the cause of numerous bumps over the years, and many near misses. It's simply unsuitable for the volume of traffic.
"Traffic lights will be a major improvement, not just for motorists who find the current layout challenging, but also in reducing the amount of hazards."
The commencement of construction work saw the eastern approach to South Street being closed to traffic.
Engineers will progress anti-clockwise around the existing roundabout until the whole interchange is eventually closed.
Improvements to pavements and pedestrian crossings will also be installed as part of the work.
A Moray Council spokesman said: "The improvement is a result on consultation with the public on the new Elgin Transport Strategy, which identified the junctions as requiring the change.
"Diversions will be in place as each branch of the roundabout is closed for the installation works to be completed.
"Once installed, the junction will change to a crossroads, with smart traffic lights that will be programmed to alter traffic flow at peak times.
"Diversions will be clearly signposted for the duration and maps indicating the temporary routes will be published online."