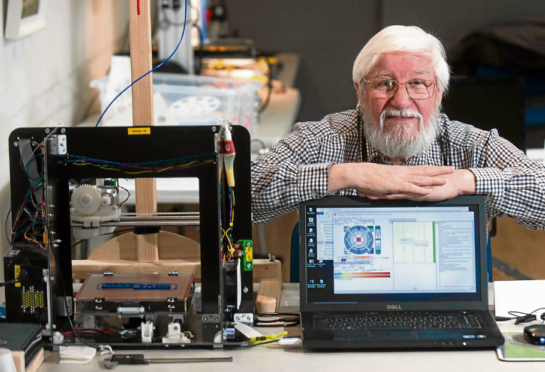 A local charity has highlighted the benefits of technology to Moray residents during a innovative engineering initiative.
The event, which was held at Findhorn Village centre, showcased a range of activities, including 3D printing, plastic recycling and computer programming, in a bid to encourage community development.
T-Exchange chair Bill Graham spoke about the benefits such events can help bring to the region.
He said: "There's a lot in the news about the advance of artificial intelligence and robotics and the threat to jobs, but there's also a huge challenge for us all in dismantling and recycling complex appliances.
"That opens the way for new jobs and new opportunities. Members often come from quite a distance, as well as from across Moray, the Highland area and the south.
"People who bring together a large range of different backgrounds, knowledge and skills opens up a lot of original thinking."
Among the gadgets on display was the charity's remote-controlled Mars rover, which was built for use in schools and mostly created from scrap parts.
The robot encompasses a video camera, which sent images of its view to pupils driving it from a Mission Control screen.
He added: "We used it to support the event. The Mars rover is a radio controlled robot which is now 10 years old and it has been round many schools.
"The children sit with a motion control device and drive the robot round the grounds outside, sending pictures back to them.
"They can look at rocks around the school and measure them. It's a replica of what happens with the real Mars rover."
The event was based on the work of one of the world's most inspirational thinkers, Leonardo Da Vinci.
Mr Graham said: "The whole theme was based on 'creativity and the art of engineering. We chose the theme from Leonardo Da Vinci, who was famous for being an artist and an engineer.
"He created hundreds of devices including what he called his War Drum. Just as with children's toys, you would wind the pegs and it would play a lullaby, this was the same design as Leonardo Da Vinci drum.
"He took the pegs and put them in the holes around the drum. There were five holes on each side and these play a different beat and tune."