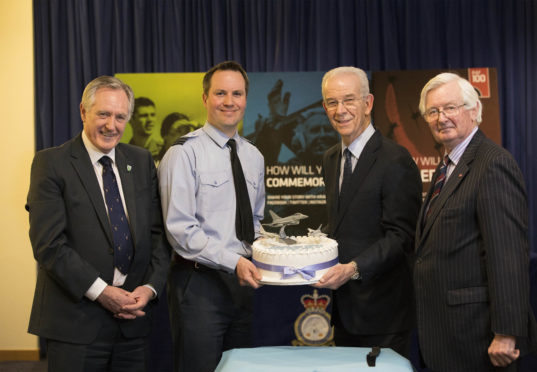 A special cake decorated with three Typhoon jets has been presented to RAF Lossiemouth to mark the air force's centenary.
The RAF has been a constant presence in Moray since 1939 when bases were opened at the coastal town and in Kinloss.
There are currently the equivalent of more than 3,300 full-time jobs at RAF Lossiemouth.
That could, however, soar above 4,000 following the arrival of an extra Typhoon squadron next year and the new Poseidon P-8 spy planes in 2020.
It is estimated the current compliment contributes about £90million every year to the region's economy.
Now Walkers Shortbread has baked a fruit cake on behalf of the people of Moray, decorated with the words "flying high at 100", to mark the RAF's centenary and celebrate the impact it has had on the region.
Jim Walker, joint managing director of the family firm, presented the cake to the base before slices were shared among the personnel.
John Cowe, chairman of Moray Economic Partnership, said: "I know we have a bit to go before the base at RAF Lossiemouth is 100 but we thought it would be nice to show our appreciation of the RAF.
"The service and their families are warmly welcomed in the area and many servicemen remain after their military service, where their skills, particularly engineering, are highly prized by local employers."
Acting station commander, Wing Commander Matt Hoare, was delighted with the presentation.
He said: "We enjoy a fantastic relationship with local organisations, businesses and the community, so it's wonderful to get this recognition of the beginning of RAF100."