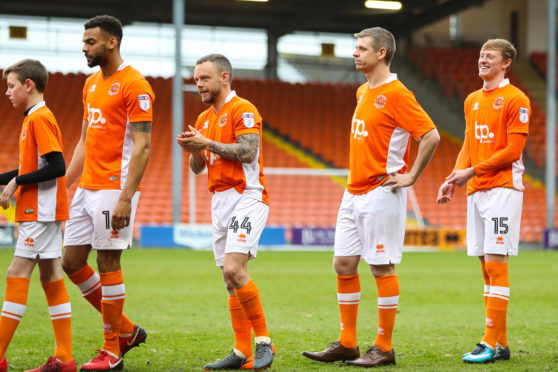 A mortified Moray man's stag do took an interesting turn when he was tricked into becoming a football mascot.
Kevin Stuart, 34, was celebrating the end of single life with 15 friends in Lancashire.
Unbeknownst to him, they had arranged a sneaky surprise for him during Saturday's match between Blackpool FC and Bradford AFC.
The teacher from Dufftown initially thought they were just going for a hospitality day and to see former Aberdeen centre back Clark Robertson in action in the Blackpool squad.
But he realised he had been stitched up when he sat down to read the matchday programme.
Mr Stuart said: "There were two kids who were about 12 that were mascots.
"When I saw the first kid I put my head up saying 'thank God it's not me that's a mascot'.
"They started laughing and when I looked down I just saw myself.
"Apparently my face was a picture."
Soon after, the 6ft3in stag took to the pitch in full football kit, walking hand-in-hand with 5ft5in midfielder Jay Spearing – towering over the player and the other mascots.
Adding to the humiliation, Mr Stuart had to wear his smart shoes when he walked out at the start of the match.
He said: "I didn't know about this so I was in my suit shoes.
"I asked the staff if they could source me a pair of size 12 trainers.
"They went away and came back saying they thought it would be funnier if I went out in my brogues."
Mr Stuart, who will marry fiancee Jessica Paterson in August, added: "I didn't expect this whatsoever.
"It was the highlight of the trip."