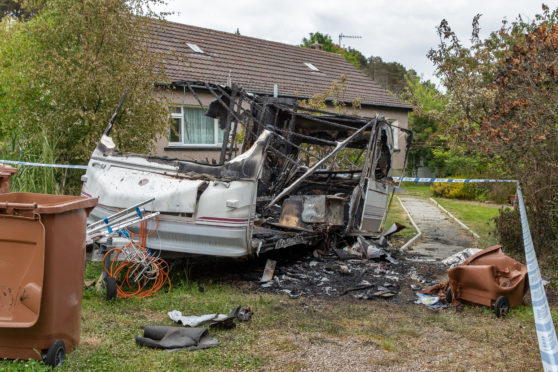 Detectives investigating a string of deliberate fires in Elgin have not ruled out the possibility that gangs of organised criminals are behind the attacks.
Fire crews were called out twice in one day to deal with two torched vehicles on streets surrounding Duncan Drive.
Residents reported seeing a thick pillar of black smoke rising from a burnt out Ford Focus at about 4.40am on Monday, while a caravan parked in a driveway was completely destroyed after it was set alight just before midnight that night.
The incidents follow a spate of other fires in the area involving hedges and trees in recent weeks.
Some residents living in the town have said they are so terrified of being targeted that they are refusing to answer their door or leave their windows open.
And many have speculated that the fires could be the work of a criminal group due to the frequency of incidents.
One woman, who did not want to be named, said: "It's really getting bad around here.
"I have to keep my doors locked all the time.
"I'm frightened of what they are going to do next."
Another resident, who watched fire crews put out flames from one of the vehicles, said: "Naturally it's a concern and I'm worried about my neighbours."
People living on streets surrounding the fire attacks said they had been left shaken and shocked by the crimes.
Some admitted to being too scared to speak about the incidents voicing fears that there could be retribution.
One resident said: "I don't know who is going about doing this," she said.
"It's scary and troubling."
Last night a police spokeswoman said that "all avenues" were being considered by the officers investigating the case.
Detective Constable Scott MacKay said: "Fortunately these fires were extinguished quickly by the Scottish Fire and Rescue Service however it goes without saying that there could have been a much more serious incident as a result.
"We are keeping an open mind as to whether the two fires are linked and would ask that anyone who saw anything unusual or suspicious in the area around the times given gets in touch with police on 101."
Councillor Maria McLean, who represents the Elgin City North Ward, condemned the "awful acts".
She said: "I am of course incredibly concerned by recent events on and around Duncan Drive.
"I have full confidence that our local police officers will make every effort to find the person responsible for these awful acts."