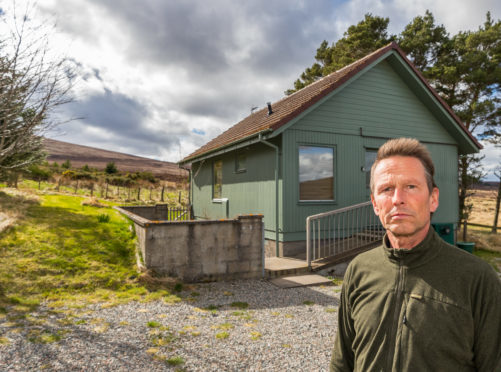 National tourism bosses have spoken out about the impact large numbers of wind turbines could be having on visitors to Speyside.
Visit Scotland has called for caution when future developments are considered by Scottish Government planners.
The agency has responded to proposals from energy giant Fred Olson Renewables to extend its Paul's Hill wind farm near Knockando. The firm has proposed seven turbines which could stretch up to 500ft into the air.
However, Visit Scotland has stressed that the effect on the "scenery and natural environment" should be taken into account when considering the plans.
In a letter, Douglas Keith, government and public affairs official, said: "The importance of these elements to tourism in Scotland cannot be underestimated.
"The character and visual amenity of Scotland's landscapes is a key driver of our tourism product.
Speyside businessman fears turbines less than a mile from his home could be sign of things to come
"A large majority of visitors come because of the landscape, scenery and wider environment, which supports important activities such as walking, cycling, wildlife watching and visiting historic sites."
He added: "Visit Scotland would strongly recommend any potential detrimental impact of the proposed development on tourism be identified and considered in full."
Meanwhile, the Ministry of Defence has objected to the plans due to the confusion it could create for the military radar used by RAF Lossiemouth.
Fred Olson Renewables already has 28 turbines that are 320ft tall at the Paul's Hill site, which became operational in 2006.
The firm is also in the early stages of planning up to 29 turbines, which could be up to 700ft tall, as part of the Rothes III project to the north of Archiestown.
Visit Scotland's caution about the cumulative effects of turbines comes after Speyside business owner Joerg Bondzio spoke out about the plans.
The German-born entrepreneur has been running an outdoor activity firm near the Paul's Hill turbines for the last 20 years but fears they could now drive him out of business.
He said: "Our holiday visitors always comment on the isolation and the untouched wild moors – now we're going to have obscene turbines less than a mile away, in full uninterrupted view. It'll ruin the business."
Due to the size of the development, the plans have been submitted directly to the Scottish Government. Moray Council is yet to submit a consultation response.
Fred Olson Renewables was asked to comment but did not respond.