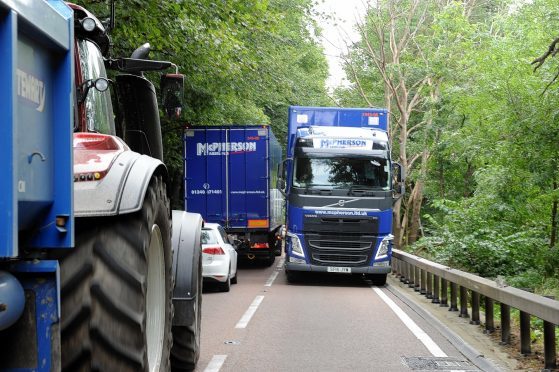 Thousands already make their way to the heart of the Scottish whisky industry each year but the Scottish Government is being urged to make Moray more visitor friendly.
Home to a full half of its major producers, Speyside attracts significant investment to the area but it has long been feared its roads do a disservice to tourists and business.
The A95 in Speyside is known as Moray's "whisky highway" but it has been criticised previously for being too narrow for two HGVs to pass each other safely.
Former Transport Minister Humza Yousaf paid a visit to the A95 in January 2017 to see first-hand the difficulties HGV drivers experience on some of the worst parts of the road.
He vowed to ask Transport Scotland to examine potential upgrades for the route.
Other issues highlighted by drivers include vegetation growing wild and affecting visibility, together with subsiding verges.
Now Moray MSP Richard Lochhead has called on the Scottish Government to conduct a transport corridor study for the entire Speyside area.
It would focus on how the transport network connects the area to surrounding key markets, consider where it works well, looks at issues and seek suggestions for improvements.
Mr Lochhead emphasised the need for a transport infrastructure that matches the significant economic ambition of Speyside, which is a key contributor to both the Moray and Scottish economy.
He said: "A transport corridor study would be a great opportunity to take stock of our local infrastructure, like the A95 and get a strategic assessment of where we are transport-wise.
"It would give local stakeholders the chance to input into the process and help develop a strategy that works for Speyside.
"The area is an immensely valuable economic and cultural asset for Moray and Scotland.
"As home to half of the Scotch whisky industry, as well as significant tourism, textile and forestry industries, Speyside is a perfect candidate for such a study."
The SNP MSP has written to Michael Matheson, Cabinet Secretary for Transport, Infrastructure and Connectivity to formally request that the Scottish Government conduct a transport corridor study.
A Transport Scotland spokesman said that they had been in discussions with Moray Council about plans for the A95.
"We are aware of the Moray Council and HITRANS study looking at the A95 between Aviemore and Craigellachie and our officials met with the council and their consultants as part of the process, providing information and assistance as appropriate.
"Following the last discussion, it's our understanding that Moray Council are considering how they wish to progress with the report and we look forward to further discussions in due course."