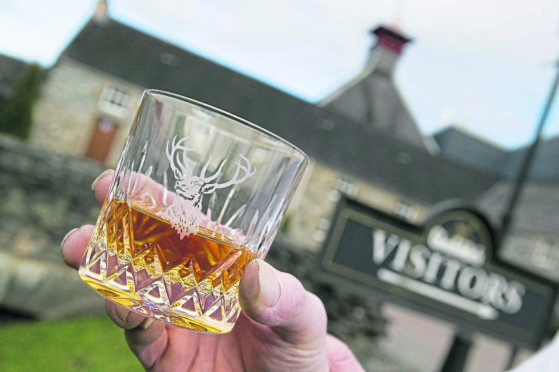 Whisky distilleries around Scotland welcomed a record 1.9 million visitors last year, figures out today show.
The Scotch Whisky Association (SWA) survey findings also reveal spending at visitor centres rocketed by 15.6% to £60.9m
An average of more than £32 was spent on each visit, up nearly 4% year-on-year and by £11 since 2010.
The increase in visits to 1.9million last year is an 11.4% rise on 2016 and represents 45% growth since 2010.
SWA said the higher numbers reflected growing interest in Scotland's national drink and how it is made, as well as significant investment by the industry.
They also coincided with a bumper year for tourism, with 17% more international visitors flocking to Scotland.
Germany and the US topped the list of countries of origin for distillery visitors, followed by India, China and Japan.
SWA chief executive Karen Betts said: "These record figures are great news for the industry and great news for Scotland.
"These are exciting times. Scotch Whisky distilleries have invested – and continue to invest – hugely in providing world-class visitor facilities at their sites all over Scotland, and they are collaborating in establishing new whisky trails and finding new ways of telling the story of Scotch to British and foreign visitors alike."
Tourism Minister Fiona Hyslop said: "These record figures show the value of the industry and how well-regarded Scotch whisky is to tourists from the UK and abroad.
"As we are seeing innovative expansions to the visitor experience at distilleries around Scotland, I am confident we will see a further increase in visitors, which is great for our tourism sector and the wider economy."