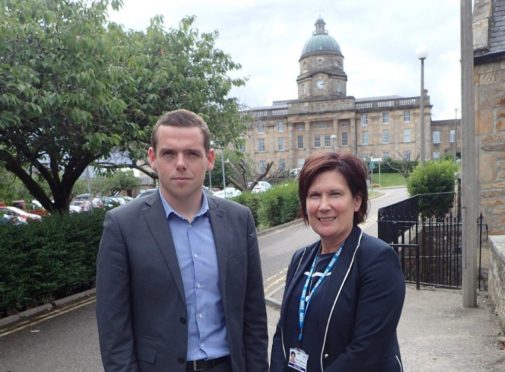 A Moray MP has called on NHS Grampian to urgently improve its orthopaedic services after a resident was told he would have to wait ten months to see a consultant.
Douglas Ross wrote to the acting chief executive of the health board, Amanda Croft, to highlight the case and urged them to act fast to deal with growing waiting lists.
The patient  was referred by his GP to an orthopaedic consultant because of a knee injury which left him unable to walk.
However, he was then told that he would need to wait at least 40 weeks for an appointment with a specialist.
Mr Ross said the wait was "simply unacceptable."
He said:  "The SNP Scottish Government's target makes it clear that patients should wait no longer than 12 weeks after referral for a new outpatient appointment at a consultant-led clinic, so clearly NHS Grampian is failing its patients in spectacular fashion by forcing them to wait more than 40 weeks to see an orthopaedic consultant.
"It's time for the Scottish Government to step up to ensure that its own targets are being achieved by providing the funding that NHS Grampian clearly needs to provide a service that local people deserve. These outrageous waiting lists need to be addressed as a matter of urgency."
A spokeswoman for NHS Grampian apologised to the patient and insisted that they were working hard to solve the waiting list delays.
She said: "We are sorry to hear about this patient's experience and regret that he is having to wait longer than we would wish. We're working hard to reduce waiting times across the orthopaedic service which is experiencing higher levels of demand than ever before.
"A number of new procedures and enhancements across the service have now been introduced and are​ beginning to help reduce the average wait for our patients.
"While we continue to build on that work, we would like to reassure people that we are committed to seeing those in need of urgent treatment as a matter of priority. Unfortunately, this does mean that people with more routine conditions sometimes have to wait longer."​