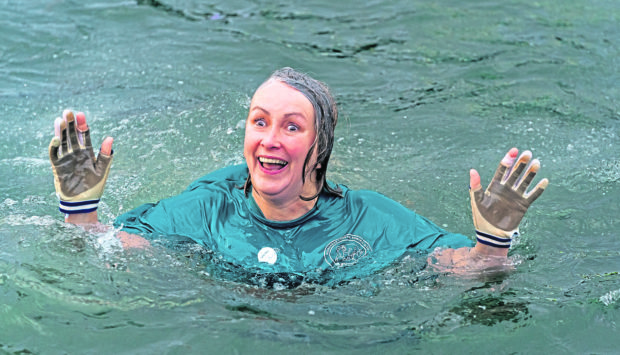 More than 100 courageous souls have braved the chilly water of the Moray Firth to raise thousands of pounds for charity.
Hundreds of people – from as far afield as California and Malaysia – lined the quayside at Burghead Harbour for the village's traditional Boxing Day swim.
It was nearly double the turn-out of last year's event.
---
>> Keep up to date with the latest news with The P&J newsletter
---
Most of the hardy fundraisers wore bright T-shirts bearing the name of Abbie Main, from Elgin, who died of cancer on Christmas Day last year aged just 15.
The teenager's parents Tammy and Russell and big brother Cameron were applauded by the massive crowd as they linked arms before taking the plunge as the final group to bring the event to a close.
Cash raised from yesterday's fundraiser will be divided between Abbie's Sparkle Foundation – which was set up by the teen before she died to help other families with children battling cancer – Burghead's parent and toddlers group and the village's coastal rowing club.
Mrs Main said she was "overwhelmed" to see the huge turnout of friends and supporters of her daughter.
"It's been difficult to fight back the tears," she said. "It's amazing to see everyone together who has been inspired by her story.
"It's not the kind of thing that Abbie would have wanted me to do though. She would have been more worried about me making a fool of myself."
Burghead's traditional Boxing Day swim was created in 1986 in order to support local causes.
For more than three decades swimmers have been jumping off the pier at the port before swimming across to the other side.
Since its formation, nearly £500,000 has been donated to local causes.
This year's event will also help the parent and toddlers group buy newer toys for children and new tables while the coastal rowing club will be supported in their entry for the forthcoming World Skiff Championships in Stranraer.
Boxing Day Swim president Jamie Campbell said: "It's a great event because it pulls everyone together at this time of year and supports local businesses too.
"I think the attraction is that it's one of the original swims. A lot of places do a run into the water now but Burghead is a proper swim."