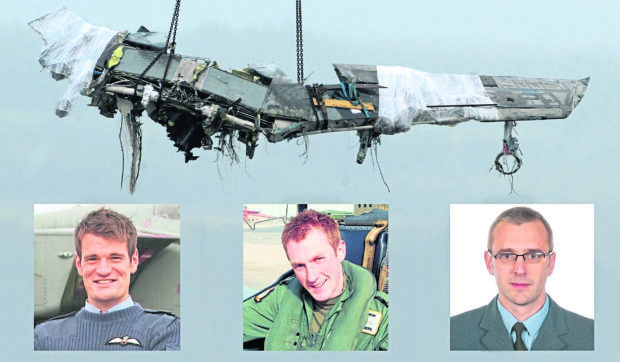 One of Scotland's most distinguished judges has made a "significant" intervention in the battle for a probe into the tragic RAF Tornado crash over the Moray Firth in 2012.
Lord Cullen, who led inquiries into the Piper Alpha disaster and the Dunblane school shooting, has suggested that a fatal accident inquiry (FAI) might have been "required" for such military deaths to comply with the European Convention on Human Rights.
Campaigners battling for a court hearing into one of RAF Lossiemouth's darkest days last night said they believed the remarks represented a "clear message" that an FAI should have been held into the Tornado GR4 collision.
---
>> Keep up to date with the latest news with The P&J newsletter
---
Despite repeated pleas from campaigners and some of the bereaved families, two Lord Advocates have now rejected calls for an FAI into the deaths of Squadron Leader Sam Bailey, 36, Flight Lieutenant Hywel Poole, 28, and Flight Lieutenant Adam Sanders, 27.
The Moray-based crew died in bad weather on July 3, 2012, when two Lossiemouth-based Tornado jets collided while on separate training missions off Helmsdale.
A Military Aviation Authority (MAA) inquiry into the incident found that there were 17 contributory factors, including the lack of an effective care plan for Squadron Leader Bailey, who had developed a fear of flying at certain heights, and the failure to fit a crash warning system in the jets.
Fresh calls for inquiry into RAF Tornado tragedy after law change
The Crown Office has insisted, however, that an FAI was not required because the MAA probe was more wide-ranging than a court hearing would have been.
Campaigners have continued to press the case and in 2017 the Moray-based retired Flight Lieutenant Jimmy Jones secured a change in the law to ensure all deaths of military personnel in Scotland would be the subject of an automatic FAI in future.
Last month, Mr Jones wrote to Lord Cullen to ask about his belief that the lack of an FAI had resulted in a failure to comply with with Article 2 of the Convention, which contains an obligation to carry out an effective investigation into deaths involving the state.
Lord Cullen replied: "The fact that a fatal accident inquiry was not mandatory did not mean that one could not be required."
He added that his review, which led to a recent update in FAI laws, had pointed out that Article 2 has been interpreted as "imposing substantive obligations on member states for the protection of life, and, by implication, a procedural obligation to make sure that the substantive rights were effective".
Lord Cullen continued: "Whether there was an issue as to the state's compliance with its substantive obligations, and as to what was needed to satisfy its procedural obligation, would depend on the circumstances of the particular case.
"I also pointed out (in the report) that one means by which the state could satisfy its procedural obligation was by the holding of a fatal accident inquiry."
Last night, Mr Jones said: "I think his message is quite clear, an FAI should be held in order to comply with Article 2 of the European Convention on Human Rights."
He added: "As things stand at the moment the Article 2 rights for Flight Lieutenants Poole and Sanders, and Squadron Leader Bailey, have been breached."
Moray MSP Richard Lochhead said Lord Cullen's "intervention is a significant one and lends credibility" to the argument made by Mr Jones.
He added: "Lord Cullen is a well-known and respected authority on such legal matters and his suggestion that the FAI into the Tornado tragedy in the Moray Firth would be a way of ensuring that the state complied with the Convention on Human Rights is a point that deserves to be taken seriously."
However, a Crown Office spokesman said: "As Lord Cullen observes, what is required to satisfy the state's procedural obligations under Article 2 of the European Convention on Human Rights would depend on the circumstances of the particular case.
"Where Article 2 applies, it is given effect, within our legal system by various mechanisms.
"A fatal accident inquiry is only one of those mechanisms; a fatal accident inquiry is not required in every case."
The waiting game
Politicians, campaigners and bereaved family members have been demanding an inquiry into the RAF Tornado collision for years.
The tragedy happened at 12.01pm on July 3, 2012, about seven nautical miles south-east of Helmsdale, at around 920ft.
Two Tornado crews from RAF Lossiemouth were on separate training missions, and were headed for a firing range at Tain when they collided in poor weather. The sole survivor has no memory of the incident.
Military investigators found 17 factors which contributed to the deaths, including the "inadequate handling" of a medical condition developed by Squadron Leader Samuel Bailey, who had told doctors he never wanted to fly again just weeks earlier.
His widow, Flight Lieutenant Fiona Bailey – who worked at the Aeronautical Rescue Co-ordination Centre staff at RAF Kinloss – was stood down from the Tornado crash rescue operation after it was discovered her husband was one of the missing crew.
She has said: "To have an inquiry in public view is preferable to accepting the findings of the Ministry of Defence."