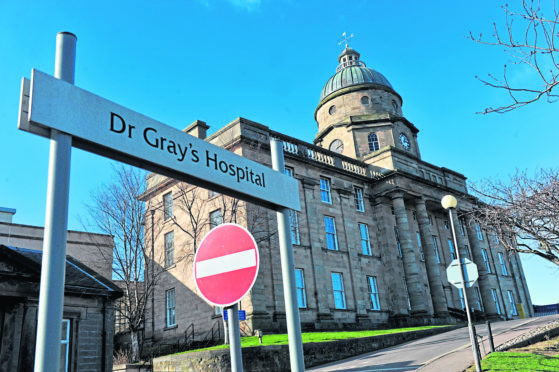 NHS Grampian will publish the second phase of its action plan to restore maternity services at a Moray hospital within "the next few months".
The health board believe that step will pave the way for a full restoration of maternity and paediatric services at Dr Gray's in Elgin.
Currently, woman who have medium or high-risk pregnancies are forced to travel to either Inverness or Aberdeen to give birth.
That is due to staffing problem at what is Moray's biggest hospital, with a lack of junior doctors and consultant paediatricians forcing the maternity unit to be downgraded from consultant-led to midwifery-led back in July last year.
Since then, NHS Grampian has been working on an action plan, under the guidance of Scottish Government Health Secretary Jeane Freeman.
The first phase of that plan was published in November, detailing measures that can be implemented in the short-term to gradually increase the amount of services at the hospital.
Now, the health board has announced that the vital second phase will be published in a few months' time.
Pam Gowans, NHS Grampian Executive Lead for Dr Gray's Hospital, insisted that they are working as hard as they can to solve the difficulties that have blighted the children's services at the Elgin site.
She said: "We are working hard to find a long term, sustainable solution to the staffing difficulties that we face in the Women and Children's service at Elgin.
"All our focus is on that but it will take time. In the next few weeks, we will publish the second phase of our action plan that will act as a road map towards the long term restoration of the service.
"While the work is underway, we will also continue to gradually restore elements of the service as our staffing situation improves, as we did with the reintroduction of elective caesarean sections a few weeks ago."
---
>> Keep up to date with the latest news with The P&J newsletter
---
The second phase of the plan is expected to show the steps that will be taken to establish a sustainable model to restore the full service and reduce reliance on junior doctors.
Dr Gray's Hospital marked a special milestone earlier this year, as it celebrated its 200th birthday.
A number of events have already been arranged for 2019 to commemorate that, with Ms Gowans saying she believes it is important to celebrate such a pivotal place.
She said: "Dr Gray's plays a vital role in Moray and, during its 200th anniversary, it is fitting that we celebrate the difference it's made – and continues to make – for so many people in our area.
"It's a really special facility that means as much to the community as it does to the staff.
"Thousands of people are cared for here every week and hundreds of procedures and operations carried out.
"Yes, there are challenges in the women and children's service just now but we must not fall into the trap of talking down the hospital.
"It has a bright future. We're committed to maintaining services and, where we can, offering additional services at Dr Gray's."
A Keep Mum spokeswoman said: "We have no timeline for the reinstatement of the consultant led maternity and paediatric service and this casts a very dark shadow over any celebrations.
"No other area in Scotland with our population base has such a poor maternity and paediatric service as we have at present."