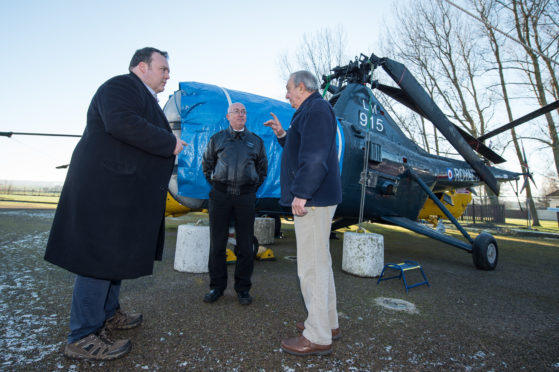 Volunteers at a north-east visitor attraction dedicated to aviation heritage are preparing to unveil another chapter of history.
Dozens of exhibits have been added to Morayvia's collection since it was formed eight years ago with the aim of saving a Nimrod.
Now the Kinloss-based organisation is preparing to add cockpit sections from a Meteor and Buccaneer – both of which were deployed to RAF Lossiemouth or during its time as a Navy base as HMS Fulmar.
The new additions will also be joined by sections from a Lightning and a Jet Provost outside the group's base, which is a former primary school.
Meanwhile, restoration efforts are also continuing on a Dragonfly helicopter.
Experts from the charity have been hard at work at the centre's workshop during the winter to painstakingly restore components to look their best once again.
Years of muck and grime are being cleaned from the machinery to give the impression of them still being operational.
Highlands and Islands MSP Jamie Halcro Johnston visited the attraction at the weekend and praised the dedication of volunteers for their commitment to aviation heritage.
He said: "It was like a trip back in time to my childhood. To be able to stand next to the cockpit of well known aircraft was amazing.
"The search and rescue helicopters are very well known across the north of Scotland and hearing from crew who took part in rescue missions is an experience which cannot be delivered with such passion in books.
"The directors are continually searching, across the globe in some cases, for exhibits relating to the military aviation heritage of the north-east and have some very unique aircraft types in their collection."
Last year, Morayvia received the Queen's Award for Voluntary Service to recognise its efforts in showcasing work carried out by armed forces personnel who have served in the north-east.
Marc Macrae, a director of the attraction, said: "While closed for the winter our members are working harder than ever to develop new displays and to further develop the visitor experience for when we reopen in spring."