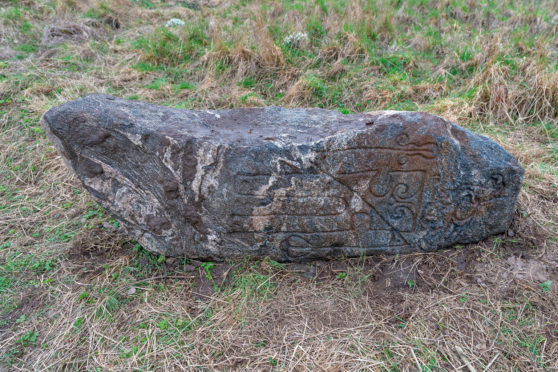 A mysterious 6ft tall stone with Pictish markings has been discovered near a Moray business park development.
The object was initially discarded by workers currently constructing the Barmuckity Business Park just outside Elgin.
It was then discovered by amateur metal detectorist Wayne Miles, who found it when out in a field behind his house that he walks through almost every day.
The huge stone is estimated to weigh about two tonnes.
Engravings carved into the surface appear to be ancient Pict markings although historians will need to confirm its origins.
Mr Miles described the find as a "once in a lifetime" discovery.
He said: "There is quite stunning imagery on the stone and I have been smiling ever since I found it.
"I've only ever seen things like this in the museum and it is a mysterious thing.
"It was dug up by local development workers at Barmuckity who didn't know what it was and they dumped it on the side of this scrap land I walk through every day and after scraping away at it a bit, I found the images on it."
Members of the Treasure Trove panel from Elgin Museum have already examined the stone but have been unable to confirm or deny its authenticity.
If it is found to be genuine, it is expected to be a big find for Moray.
Other Pictish stones similar to this one have been found in Craigellachie, while the remnants of an old Pictish fort lay in Burghead.
Mr Miles is excited to see what happens next with the stone.
He said: "Metal detection is my hobby so I don't know much about the stone but I'd love for this to be Pictish.
"The Treasure Trove was quite vague about the possibility of it being authentic, so we will wait and see."