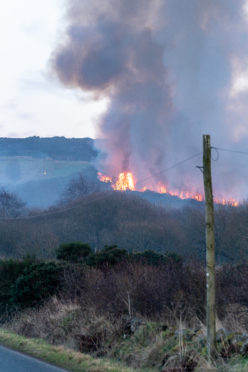 Firefighters worked late into the night to prevent a wildfire spreading into a woodland.
Six crews were called to the scene at Culvie Hill, near Banff, after a half-mile stretch of gorse caught fire at about 3pm.
The flames continued to spread towards a patch of trees, with thick black plumes of smoke seen in the air for miles.
About 44 firefighters tackled the flames, with an all-weather terrain vehicle also in attendance. Relief crews were drafted in last night to tackle the "pockets" of fire still threatening the hill.
Local farmer Kenny Thain owns the land, and said last night he was alarmed at how quickly it spread.
He said: "We've owned the land since around 2012 and it's just a gorse moorland that we don't actually farm on as it's quite wild.
"Really it was just a gorse bank – obviously not now.
"There's no big loss, the fences will all be destroyed by the look of it but there's no body injured and no animals were involved.
"We'll just have to see what happens, see where it spreads and if we can control it as it's currently spanning out in two directions."
Mr Thain said two ambulances were also at the scene along with the police and firefighters.
A spokesman for the fire service said: "It's a grass and gorse fire at the hill which spans an area one km sq (about half a mile)."
He said the crews assessed the best spot to deploy the all-terrain vehicle to help control the fire.
The police closed off a stretch of unnamed road between the A95 and the B9023 to help the fire service tackle the blaze.
A spokesman said: "We were called to action at 3.22pm to reports of a gorse fire.
"We've closed off an unclassified road while this is dealt with by the fire service.
"There's no risk to the public."
It is unknown if the fire began from a controlled burning.