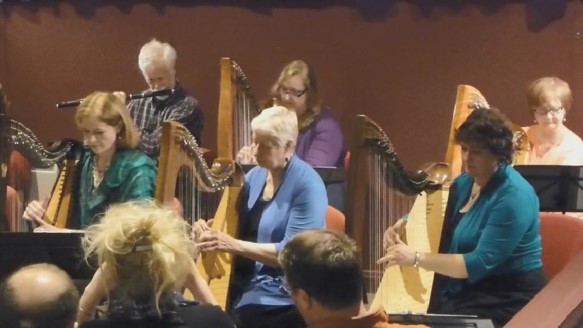 A group of musicians who have played for royalty and world leaders will bring a Moray landmark to life for a charity concert.
World-renowned Harpa, an ensemble of harpists from across the USA, will return to the Forres Tolbooth on May 11.
The group last played at the historic site in 2015 to a sell-out audience, and will return again to raise cash for the Forres Heritage Trust.
Bob James, from the trust, said: "To have these world-renowned performers, specialists in their field, play for us once was enough of a coup the first time, but to secure them again for a second performance has blown me away.
"Their music is sensational and this time they actually chose to return to our beautiful building. I spoke with their tour manager David Leitch and Harpa are here on a retreat, but said they wanted to play some extra venues and the Tolbooth was one that they asked about. This is a truly philanthropic gesture on their part to give us another concert."
The ensemble is made up of Sue Richards, Therese Honey, Beth Kolle and Jennifer Narkevicius, Martha Hill and Donna Bennett.
Ms Richards is an internationally-known performer and has played twice for Bill Clinton, George Bush and the Queen, while Ms Kolle is a leading proponent of Nordic and Celtic music.
Ms Narkevicius, meanwhile, is the president of the American Clarsach Society
David Leitch, the group's tour manager said: "I've now been associated with the Harpa group since their first visit to the UK in 2015. They are such beautiful people and performers that I consider working with them to be a true privilege."
"They loved the warmth of the reception, intimate atmosphere, and great acoustics of the Tolbooth venue, and are delighted to support the local Forres community."
Tickets are available from Eventbrite by searching for Harpa.