It was a day of celebration at RAF Lossiemouth yesterday as the base welcomed a fourth Typhoon squadron.
The personnel and aircraft of the IX(B) Squadron will be involved in the Quick Reaction Alert Force, tasked with keeping the UK's air space safe.
The Typhoons will be ready to take off within minutes of an alert being triggered – such as the incursion of Russian bombers and fighters.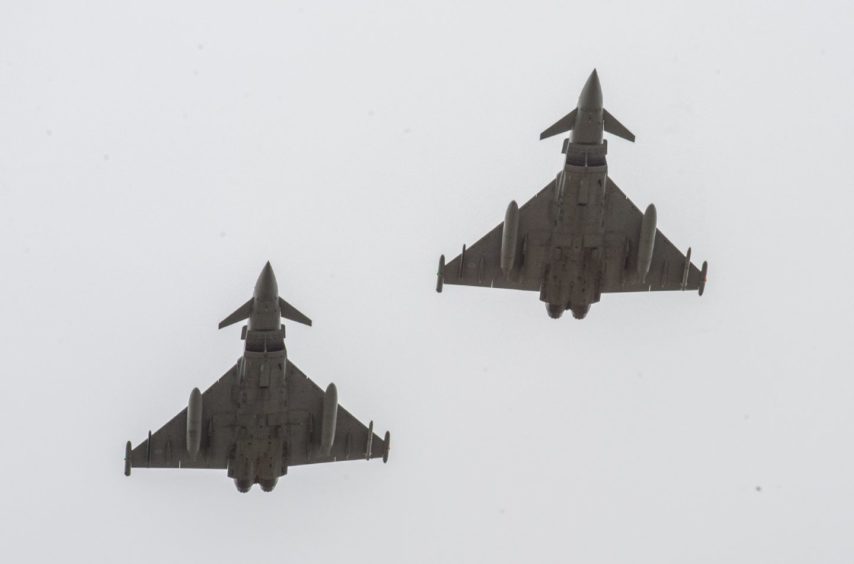 They were officially "stood up" at a ceremonial parade and flypast at RAF Lossiemouth yesterday, a day after the 80th anniversary of the famous Moray base.
Former Defence Secretary Gavin Williamson was scheduled to attend before his sacking on Wednesday night but the show went on without him, with chief of the Air Staff, Sir Stephen Hillier, there to help mark the occasion.
Neither the absence of Mr Williamson, his replacement Penny Mordaunt – appointed on Wednesday evening – nor an errant fire alarm that sounded halfway through Mr Hillier's speech were enough to dampen the ceremony.
The Air Chief Marshal continued his speech once everyone was safely evacuated, saying: "The growth of the typhoon force is such an important part of developing the RAF's frontline capability and making sure that the combat aircraft capabilities that are so important to everything that we do day-to-day are as able as possible to contribute to operations.
"It also underlines the RAF's commitment to RAF Lossiemouth, to Moray and to Scotland, growing our capabilities here, growing the number of people here and spending a huge amount investing both in Typhoon capability and the P-8A Maritime Patrol aircraft.
"It is a hugely important day from all manner of angles."
Mr Hillier also said he was looking forward to working with the new Defence Secretary, whom he knows well from her previous time in defence, and hoped they would both focus on looking after the RAF.
The new IX(B) Squadron will also be involved with training RAF and NATO fast-jet pilots, as they will play the role of opposing aircraft which match their speed and maneuverability to test them.
Station Commander Jim Walls believes the new Squadron will bring a huge benefit to Lossiemouth.
He said: "In terms of delivering our tasks, it is a whole extra Squadron so that we can defend our air space, global operations.
"To the station, it is several hundred more people, hundreds of millions worth of investment. To the community that is a really big increase. It's great for everyone."