Platefuls of the nation's staple dish were scoffed in record time as a hungry handful of competitors took part in a fun day celebrating all that is special about Scotland.
The centre of Elgin was awash with tartan as the town marked its annual Scottish Theme Day on Saturday.
The event, which was staged to coincide with the Spirit of Speyside Whisky Festival, brought thousands of people onto the historic Plainstones.
One of the most attention-grabbing attractions was a haggis-eating competition, where entrants were forbidden from using their hands and had to plunge their faces into piles of the mouth-watering concoction.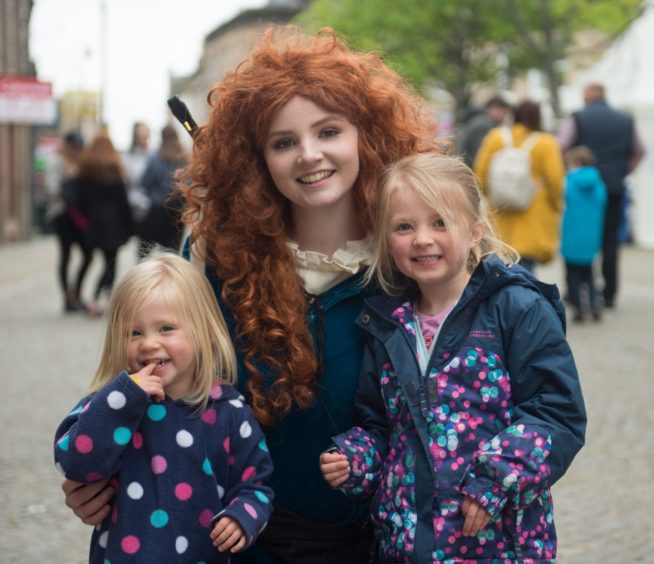 Local entertainer Bubbles the Clown featured among the eight competitors.
But the harlequin was outdone by haggis enthusiast Jamie Harbour, who wolfed down his plateful the quickest.
Bubbles, whose real name is David Dunn, travelled from Nairn to perform a variety of tricks but decided to join the haggis-munching extravaganza after spotting an empty seat.
He said: "I have been doing events in Elgin for years now and have been present for similar eating contests during the last few Scottish Theme Days.
"But this is the first time I have taken part. I just saw a space and thought I would give it a go.
"I was lucky if I managed a spoonful though, I didn't take it too seriously.
"It was all good fun and I would be the first to congratulate Mr Harbour. I found his appreciation for haggis all the more remarkable because he is from England."
The event was staged by the Elgin Business Improvement District group and various other attractions were lined up.
There were tasting sessions where gin fans got to sample the locally produced El-Gin drink.
Meanwhile, attendees gazed upwards in wonder at stilt-walkers who paraded through the centre.
And youngsters queued to have their pictures taken with a costumed performer who had dressed up as Merida from Disney film Brave.
There were also various arts and crafts stalls and Scottish dancing displays.
The event came to a rousing finale at 4pm when the RAF Lossiemouth Pipe Band, Elgin and District and Strathisla outfits marched along the Plainstones during a stirring mass performance.