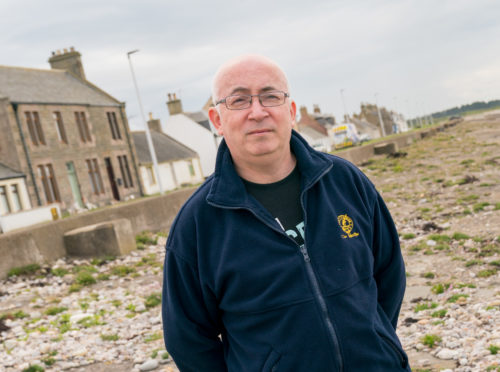 A £1.1 million flood prevention scheme to protect an area of Lossiemouth has been recommended to be approved by council officers.
The project to mitigate flooding risks in the Seatown area of coastal town will be developed, with the proposal of an earth embankment being constructed as a barrier between the estuary and properties being put forward.
An investigation found that 248 properties in that part of Lossiemouth are at risk of tidal flooding during a one in 200 year event.
However, similar prevention plans for Portgordon are being recommended for refusal due to there being no positive business case to reduce waves spilling over into the village and the substantial cost of £18 to £24 million.
There is a history of flooding during storms on Stewart Street and Lennox Place in Portgordon.
It usually occurs when waves flow over the top of the wall and seawater builds up behind the small wave wall between the revetment and the road, with a study showing that 66 properties in the village were at risk of flooding.
Debbie Halliday, acting consultancy manager and a senior engineer in flood risk management for the local authority, said "a number of mitigation options" had been considered, but the cost would be up to £26m.
She said: "Based on what would be considered a poor business case, it is unlikely that grant funding from Scottish Government would be made available to construct this
scheme."
However, Fochabers Lhanbryde councillor Marc Macrae was disappointed in the results of the study but stressed that the authority would be doing all they can for the residents of Portgordon.
He said: "It is a bitter pill to swallow for Portgordon residents who have to suffer but hopefully my colleagues in the flood department will be working on a solution for them.
"We can't forget about residents here and need to reassure them that they are not being cast aside to the elements."
Mike Mulholland, chairman of the Lossiemouth Community Council, praised the decision to carry out "essential works" in Seatown,
He said: "This is welcome news for Lossiemouth and we are delighted to see plans progress.
"It is vital to all the residents there as you never know with the weather as it is becoming more unpredictable and this should re-assure them."
Councillors will discuss these options in an economic and development committee meeting tomorrow.