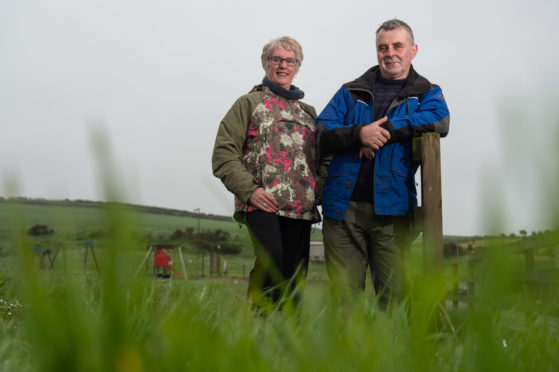 A Moray community are paying out £120 to the local authority so that they can maintain a popular park in their coastal village.
Cullen residents approached the council to ask them for help in cutting the grass at Logie Park, which was growing overlong and becoming a nuisance for children playing there.
In a response to their queries the local authority – which has slashed gardening services to save money – offered to maintain the land there until the end of October for a fee of £120.
---
>> Keep up to date with the latest news with The P&J newsletter
---
Cullen and Deskford Community Council chairman Stewart Black revealed last night that they had agreed to pay the sum as a temporary measure after realising that it would be more expensive to bring a contractor in themselves to do it.
He said: "We've accepted the offer and we've had quite a few personal donations to help cover the cost.
"This is a quick option for us and is a temporary fix so that we have time to discuss what we are going to do next year and what the council's position will be next year as well.
"If I was going to get a contractor in, then there is no chance we could get the park maintained at such a low price."
Moray Council maintains more than 1,700 acres of grass in parks and countryside  across the region.
This year the authority reduced the frequency of maintenance to save £45,000 – just one of a number of budget cuts made to reduce overall spending by £10 million.
Exceptions have been made for cemeteries, council house estates and high-profile areas, but unkempt parks and land have become an issue for a number of communities in the past few months.
Lossiemouth Community Council received an anonymous donation of £600 to help maintain the playing fields next to the town's secondary school for the rest of the year after becoming fed up with the state of their grounds.
Numerous complaints have been lodged with the council since the budget decision was taken, leading the Conservative opposition group to call for it to be overturned.
The council, meanwhile, has recommended that other local groups who want their assistance with grass-cutting contact them to find out about the costs.
Keith and Cullen councillor Donald Gatt said: "It is good to see the Cullen community step up to the plate and look after their green environments.
"However, it is a bit of a shocking state of affairs that the council can't afford to cut it.
"It is an option for communities to ask the council about the cost of maintaining their land and see if they want to take it on themselves.
"I do want to take my hat off to the people of Cullen who have stepped up, taking over the residential centre and public toilets and pulling out all the stops for the village."