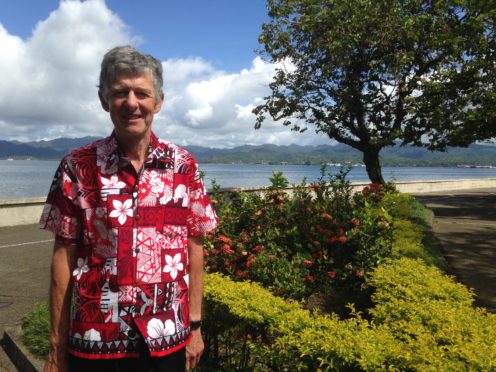 The funeral of a Moray quizzing legend will take place just hours before his appearance in the final of Mastermind is broadcast tonight.
Trivia fanatic Hamish Cameron pulled off the remarkable feat of reaching the final of the long-running BBC series for a second time when he sat in the show's famous black leather armchair in November.
The following month, the retired IT manager was diagnosed with cancer and he died last week aged 72.
The BBC considered postponing tonight's screening but, as his health declined, Mr Cameron had told his loved ones to make sure the show went out even if he was not around to see it.
His wife Edna, children Mairi, Niall and Isla, grandchildren and other family members will gather for the "bittersweet" viewing at his home in Elgin tonight, following his funeral at Rafford Church.
Son, Niall Cameron, said: "It will be tough to watch.
"When he did the Mastermind final, he said 'if I am not here, make sure the programme still goes out'.
"Hamish wouldn't want us to be sad, but to find the positives.
"It's quite strange timing but, knowing Hamish, he would see the irony in it."
Another of tonight's finalists, Mark Grant, said: "Sometimes when you encounter people in the final, there is a frisson of competition, but he was just really nice.
"He was just a lovely guy."
Mr Cameron, whose specialist subject for the final was the American artist Mary Cassatt, was a regular quizzer who often travelled to Edinburgh and further afield for competitions.
Racking up 17 appearances, no player in the show's history appeared on Mastermind more often.
Mr Cameron first took part in 1990 when Magnus Magnusson was asking the questions.
He tested his general knowledge in eight separate series, reaching the semi-finals in all but one of them – and making the final on his previous appearance in 2014.
The BBC plans to conclude tonight's programme with a special tribute to Mr Cameron.
He also appeared on the radio version of Mastermind, was a winner on Fifteen To One, was  part of a quiz team that won the Scottish championship two years running and helped Scotland win the Celtic Nations championship a few years ago.
Mr Cameron represented Scotland internationally at running as well as quizzing, and competed in several veteran races.
Reverend Donald Prentice, of Rafford Church, was a fellow member of the Forres Harriers team.
He said: "Hamish would go to Edinburgh to do a race in the morning, and then quiz in the afternoon and evening.
"He was running up until October. He just drove himself."