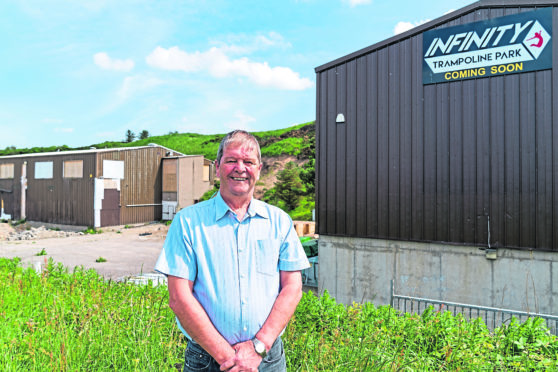 A derelict former pork factory in Buckie could be about to undergo a radical make-over, with plans submitted to transform the site into a trampoline park.
Infinity Trampoline Parks have been working for the past three years on proposals to revitalise the meat processing plant by turning it into a fun family facility .
Now, they have put forward their plan to change the use of the site on Great Western Road to Moray Council for consultation.
The first two phases of the project, should it receive the green light from planners, would see a new building constructed to house the large trampoline area itself.
An existing neighbouring structure would house parkour and ninja warrior facilities, while a café would also be created.
Infinity already run bounce factories in both Inverness and Cardiff but have planned to locate a third in Buckie since they started to clear the site of the derelict factory in 2017.
Earlier this year, they dismantled an entire park in Livingston to ship the equipment up to the north-east in preparation for installing it at their potential new premises.
Graham Cormack, of the firm Braidreef, has been working with Infinity on this development and hopes construction will begin in the summer.
He said: "It's been a fairly complex project from the start but we are trying to get things going on the Buckie site and looking for a positive outcome to our application.
"We've been clearing the site to make space for the new building and if we get our application to change it from industrial to recreational use we will then put in a separate application for a huge extension.
"Then we can really get going.
"Since we are constructing the trampoline area from scratch it lets us lay it out exactly as we have designed, so it should be a nice, clean, shiny new building."
The site has been derelict for the last decade and there have previously been vandalism problems there.
In 2017, it was damaged after a deliberate fire was set, while intruders have previously broken-in.
Buckie councillor Gordon Cowie hopes the trampoline park plans will breath new life into the former plant.
He said: "I'm very happy and hope things go well for them as it is a great idea.
"At the moment it is an absolute eyesore, so it will wonderful to see things progress.
"It could bring in visitors from elsewhere to Buckie to make use of the facility as well so it really is win/win."