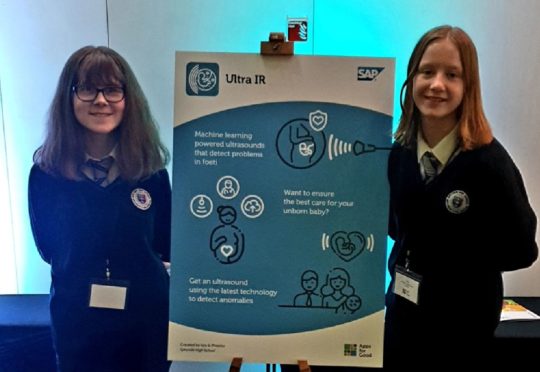 Two school pupils from Moray have devised technology to detect birth abnormalities in unborn children after being inspired by their family.
Phoebe Rees and Isla Horsburgh, who attend Speyside High School, worked with teachers to create their programme to diagnose cleft lips and palettes in the womb.
The app, which has been christened Ultra IR, has now scooped the prize for best emerging technology at the Apps For Good awards, which attracted 26,000 entries from all over the UK.
Phoebe said the project had been inspired by her family's own experiences after her sister was born with a hole in her heart.
The 14-year-old said: "My sister Megan was the inspiration behind our app. Ultra IR could have prevented some of the health issues that our family had to overcome."
Isla, 15, added: "We came up with the idea after listening to our classmates, they were a great inspiration."
The S4 pupils travelled to London for the awards ceremony before pitching their idea to representatives from the technology and banking industries.
A prototype app was used to demonstrate how the technology uses image recognition to detect clefts in ultrasound scans after being programmed with images of unborn babies with no visible problems.
Clefts are a gap or split in the upper lip or the roof of the mouth caused when parts of the baby's face do not join together properly while in the womb – they are the most common facial birth defects in the UK and affect about one in every 700 newborns.
The problem can be corrected by surgery but issues that can occur in the first months after birth include feeding, hearing and dental problems as well as speech issues if it is not corrected.
The students were mentored by Aberlour-based Spey Media as well as software and digital specialists EPAM about how best to present their idea.
Marc McWhirter, computing teacher at Speyside High, said: "I really enjoyed helping Isla and Phoebe to developed their idea into a working prototype which could have a massive impact on the world."
Emma Nicolson, Spey's general manager, said: "We could see the girls had a really great concept and it was an honour to help them present their idea in the best possible way.
"It's very encouraging to see so much local talent and we hope this app can be developed further to help identify facial clefts at an early stage."