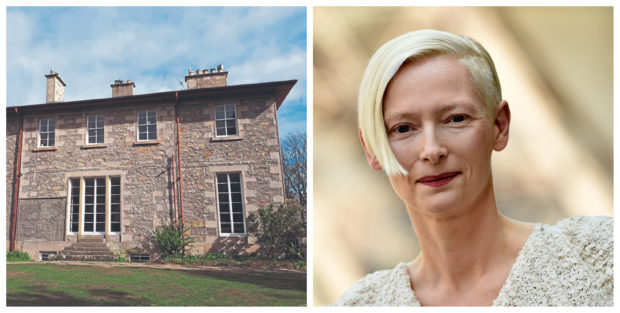 A private school in Moray with star-studded links to Hollywood is facing closure amid a cash crisis.
Oscar-winning actress Tilda Swinton became involved with Drumduan School in Forres in 2013 as a reaction to her own "Edwardian" childhood.
However, she resigned as a director earlier year – just months after appealing directly to Education Secretary John Swinney to push for more support for the school.
And now it has emerged the Steiner school, which teaches more than 80 pupils aged up to 18 – but holds no formal exams – could be on the brink of shutting down due to a shortage of funds.
A crowdfunder has been launched to raise £36,000 to secure its future – with more than £6,200 raised in just two days.
Parents and teachers first learned of the financial difficulties last month.
The most recent accounts filed by the school on Companies House in May revealed the charity had liabilities of £121,000 at the end of July last year.
That was after receiving £366,000 worth of donations during the previous 12 months, which accounted for about half its total income.
They add: "The school is dependent upon the continued support of the bank, other creditors and, in particular, the generous donors.
"The trustees are confident that this support will continue to be forthcoming and that the financial statements should be prepared on a going concern basis."
Oscar-winner Ms Swinton resigned in April, and four directors stood down this week. They have since been replaced.
A new Friends, Parents and Teachers Association has also been created to try to preserve the Steiner school, which is the only one of its kind in the north of Scotland and has annual fees of up to £8,500.
If the group hits the £36,000 target, it would allow the school to stay open into the next academic year and pay teachers.
Other fundraising efforts from families include establishing an investment fund and holding a party in woodland near Elgin.
Tom Allan, who launched the appeal, wrote online: "There is still much uncertainty about what will happen next – we are hoping to save the current school buildings and land, where the school has been based for some 30 years.
"But without a swift injection of funds, that may not be possible.
"Whatever happens next, many of our teachers and parents have committed to continuing to provide an inspiring education for our kids in this wild and wonderful part of Scotland – because we believe that the true wealth of a school lies in the people that make it happen."