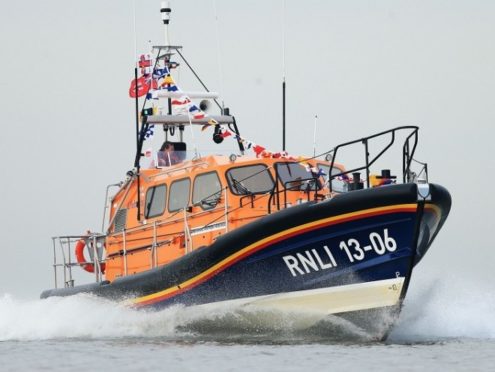 A police probe has been launched to find out if a string of false alarm calls plaguing north-east Coastguard and lifeboat teams in recent weeks have been malicious.
Rescue operations have been launched all across the north-east, including at Burghead, Portknockie and Lossiemouth this week, due to phone calls claiming vessels were in distress.
However, on each occasion rescue crews found the alerts had been for non-existent emergencies.
The recent false alarms come after suspected hoaxes were made at the end of last month through social media.
In one incident, a message was posted by one social media user saying they had spotted a flare being let off from a small boat around nine miles off the coast of Sandend.
The person who made the post appealed for someone to call the coastguard as they could apparently not get through to them, and even followed up with another post asking how long a rescue operation would take as the vessel was allegedly "struggling through the tide".
However, the account was then deleted, and Fraserburgh's lifeboat team did not respond to the call.
Detective Inspector Martin Macdougall yesterday pledged to determine whether there was "irresponsible criminal behaviour" at play.
He said: "These calls are being thoroughly investigated to establish their exact nature.
"If all these calls are indeed found to be malicious, then this reckless and irresponsible criminal behaviour has wasted the valuable time of the coastguard and the RNLI – and potentially put lives at risk."
On another day last month, Buckie's RNLI team spent three hours scouring the coast after receiving an alert on social media similar to the one sent to the Fraserburgh crew.
The crew had been told a boat had lost power near Lossiemouth but, after returning to base, it was again established the person who flagged up the alleged emergency had  deleted their account.
Det Insp Macdougall added: "Inquiries have been ongoing into a number of false calls made last month using social media.
"At this point, we are keeping an open mind as to whether these incidents are linked, however it is being considered."
"I ask anyone with information to get in touch as soon as possible by contacting the police no 101, or Crimestoppers on 0800 555111 to remain anonymous."