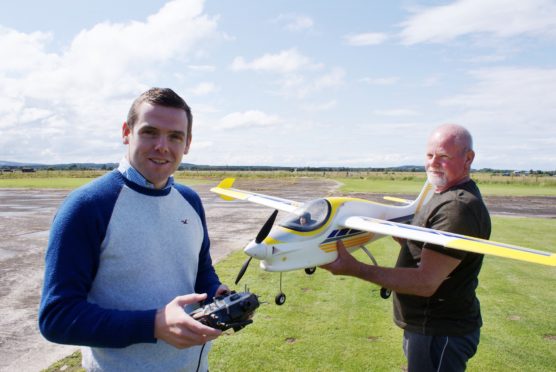 An model aeroplane group in Moray is concerned they could be forced to give up their hobby or face hefty bills after being caught up in a crackdown on drones.
The Civil Aviation Authority (CAA) is drafting new rules to cope with the rise of the new technology that has caused havoc at airports and busy events.
However, the Dallachy Aeromodellers Club in Spey Bay fears they could be victims of the added bureaucracy due to the regulations also including their own model aircraft.
The changes could lead to members having to sit a new safety test while paying an annual fee of £16.50 to register on a database, which could increase depending on the cost of running the scheme.
Moray MP Douglas Ross has written to the CAA and the UK Government's aviation minister to outline the concerns of the aeromodellers.
Club chairman Peter McMillen is worried that only legitimate pilots will sign up for the scheme while rogue operators will continue to ignore the rules.
He said: "The CAA has acknowledged that the aeromodelling community is of little concern from an aviation safety point of view and that our safety procedures, training at clubs and long history of compliance with their regulations through the British Model Flying Association makes us safe users of the UK's lower airspace.
"We want to show that the proposed system is an unnecessary complication for an already safe and well-regulated hobby."
Fochabers Lhanbryde councillor Marc Macrae added: "Modellers already have to register and pass competency tests as well as having insurance before they can take fly on their own, whereas drone users can purchase a quadcopter from high street stores and immediately go and fly.
"It would be a shame if such knee-jerk legislation and controls were to hamper those going about a hobby."
The CAA has already run a consultation about the changes and is considering the responses before implementing its new drone operator registration scheme.
Mr Ross said: "The legislation is being brought forward after the misuse of drones has caused massive disruption at airports and following concerns that models, in the wrong hands, could spark further alerts.
"However, concerns from clubs such as Dallachy Aeromodellers have to be taken into consideration and I hope the government will listen to the issues being raised."
A CAA spokesman added: "Further information on the registration scheme will be made available from September through a dedicated awareness campaign.
"We will continue to engage with model aircraft and drone representative groups."