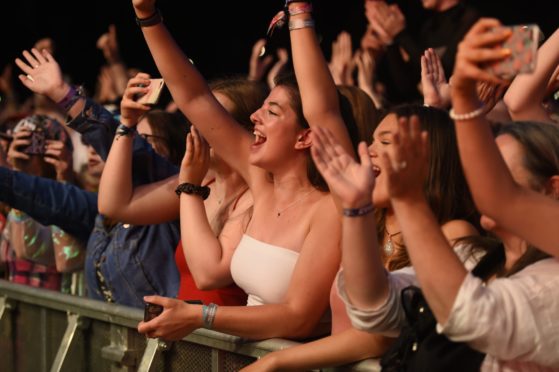 A mum whose teenage son has been conned out of £320 after being sold fake tickets to Belladrum has branded the scammers "scum".
Hundreds of revellers have been hit by the online scam that has led to families across the north being left out of pocket and locked out of Scotland's biggest three-day music festival.
Reports began to surface on Thursday of people being turned away at the gate after being told their tickets were not valid or that somebody had already been let in using the same barcode.
Ryan Fiddes, from Forres, bought two passes to celebrate the end of school with friends before they go their separate ways after the summer holidays. He had saved up money for months while working part-time peeling potatoes in a chip shop.
However, when he arrived he was turned away after security staff told him he had bought a counterfeit ticket.
Yesterday, Ryan's mum, Ann Fiddes, said her son spent hours at the gates in the hope of still getting his hands on a valid pass before eventually giving up.
She said: "The people who do this are scum. The kids that go to these festivals are young, vulnerable adults and they have saved a lot of money for the three days.
"The people who do this know they are selling fakes and are quite happy to let the people who buy them get ready and go the gates – knowing full well they're going to get knocked back.
"They won't be bothered about it though, they won't care about the devastation they cause. What gives them the right to do something like this?"
Mrs Fiddes added: "I just hope that this helps other families be more vigilant. We thought Ryan's ticket looked legitimate, but obviously it wasn't."
The Press and Journal has been told that at least 200 tickets for the event – all bought through social media – have been discovered to be fake at the gates.
Ryan bought his ticket from someone on Twitter just days after he had missed out on securing his place at the festival through the official sale.
A 17-year-old from Inverness, who did not want to be named, said he also bought an apparently genuine pass online before being turned away at the gates.
He said: "The same thing happened to another boy in my year at school. I was told that maybe 25 people have been sold the same ticket – I know of four or five people who have a ticket in the same name as mine. "
Belladrum organisers have sympathised with those who have missed out attending the event but stressed their advice has always been the same.
A spokesman said: "Many customers will use unofficial channels and will then be left out of pocket or unable to gain entry to the event because their tickets aren't valid – a big disappointment if you're turned away at the door.
"Our resale platform solves these issues. Because Skiddle are the official ticket agent, we can verify that tickets being returned and resold are genuine. "
A police spokesman said: "If you decide to purchase tickets online or through social media websites, make sure that any transaction is completed in person and do not part with any money until you have the tickets in hand and they are confirmed as genuine."