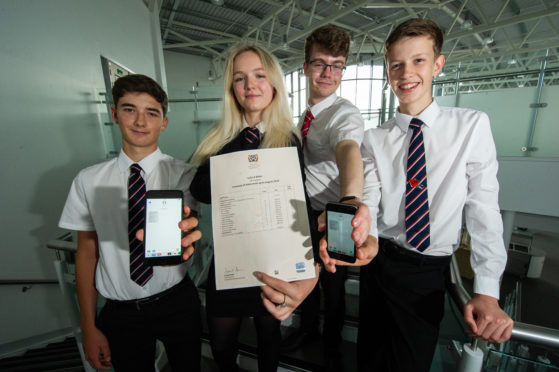 More than 2,000 students across Moray received their exam results yesterday to end an anxious wait for pupils and teachers.
Fourth year students helped achieve the region's highest-ever pass rate at National 5 level with 91% of youngsters making the grade.
Meanwhile, results in maths at the same level improved from last year with 74% of pupils getting pass marks.
Yesterday the council singled out S5 at Elgin High School and S6 at Speyside High School for its particularly strong results while S4 at Keith Grammar School achieved it best results in several years.
There were 82 S4 students who got five As at National 5 level across all six secondary schools, 25 of which were at Elgin Academy.
There was also a total of 20 students who achieved five As in their Higher exams with an overall pass rate of 83% in senior years.
Elgin High School head teacher Hugh McCulloch described the results in classrooms there as an "impressive set", with S6 pupil Adrian Turski getting three As at Advanced Higher and S5 pupil Eilidh Stuart getting five As at Higher level plus an additional A at Advanced Higher.
He said: "The hard work of both students and staff as well as the support from parents and carers has paid off yet again as we go from strength-to-strength every year."
Vivienne Cross, Moray Council's head of schools and curriculum development, said the results had contributed to another successful year for pupils.
She said: "This has been achieved through hard work, dedication and our young people challenging themselves, and I commend them for their efforts.
"As ever, we are committed to helping our young people achieve their ambitions, and for some this may mean reconsidering the path they want to take after receiving today's results. There are opportunities for this, and school staff will be able to guide our learners through their options.
"We'll continue to work in partnership with our senior school leaders, business partners, the college and Skills Development Scotland to ensure that our young people are given every opportunity to raise their awareness of local growth sectors so that they can continue to learn, live and work in Moray."
Sonya Warren, chairwoman of the council's children and young people's committee, stressed there was no wrong path for students who did not achieve their desired results to still achieve their ambitions.
She said: "We've had staff in schools to speak to pupils about their next steps, and Skills Development Scotland are running their annual exam results helpline."