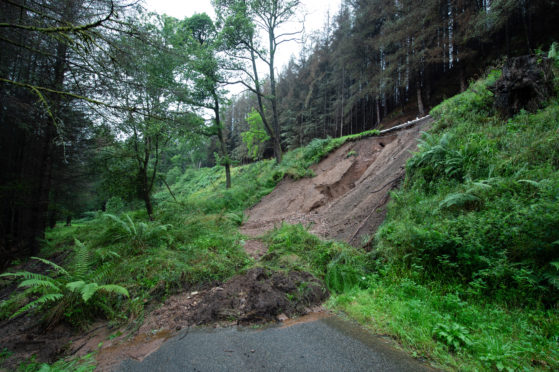 A rural road in Moray could be shut until the end of the month after heavy rain caused a devastating landslip.
Mud and earth plunged down the slope near the hairpin bend on the Cairnty Road, near Mulben, following two days of torrential rain.
The landslide caused the road surface to disintegrate, leading to fears it could be several weeks before it is able to reopen.
Meanwhile, Moray Council is hopeful that the Ordiequish Road, near Inchberry, will be open again within the next week after rubble and grass slid over the carriageway near its own hairpin bends, south of the gorge.
Landslips force closure of Moray roads as council begin repair works
The authority explained it was focusing on efforts at the site and confirmed it could be reopened sooner than the one at Cairnty, which is expected to be more complex.
However, the road network was boosted by the reopening of the B9103 Inchberry road at the railway bridge in the morning after severe flooding.
Moray and the rest of the north of Scotland has been battered by heavy rain showers for most of the week while residents and businesses have been forced to deploy sandbags to protect their properties.
Speyside Glenlivet councillor Derek Ross said: "Nothing was coping with the amount of water that fell, I don't think anything would have been able to do so, given what we saw.
"Water will always win the day and cause damage. What's been good to see is that there has been a fantastic response to it, the council teams have been tremendous at a time of year where they're usually under-staffed due to holidays."
Yesterday, weather warnings from the Met Office remained in force and more heavy rain is expected today and through the weekend until Sunday morning.
Sepa also issued its own flood alerts, warning residents that persistent rain today was likely to lead to a lot of surface water on roads, which could affect smaller rivers.
Heavy localised thundery showers are also expected throughout tomorrow with built-up areas expected to be at greater risk.
Moray Council has issued fresh warnings to drivers to respect road conditions during the anticipated heavy rain.
A spokesman said: "Our roads are largely back to normal following recent heavy rain. Roads remain closed where we have identified landslips and we have crews out cleaning up loose soil and stones across our road network."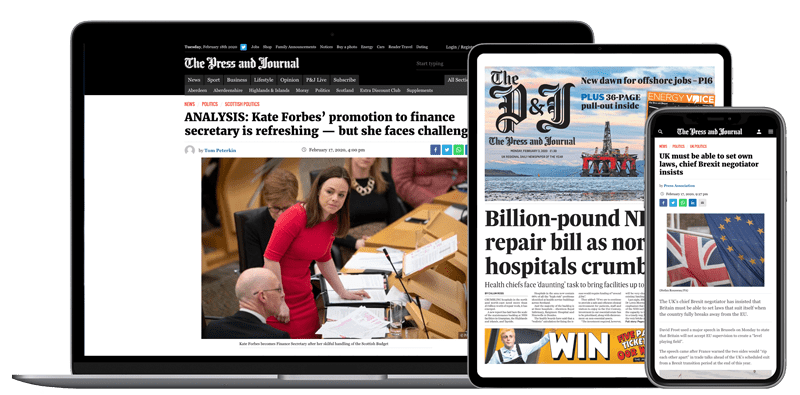 Help support quality local journalism … become a digital subscriber to The Press and Journal
For as little as £5.99 a month you can access all of our content, including Premium articles.
Subscribe